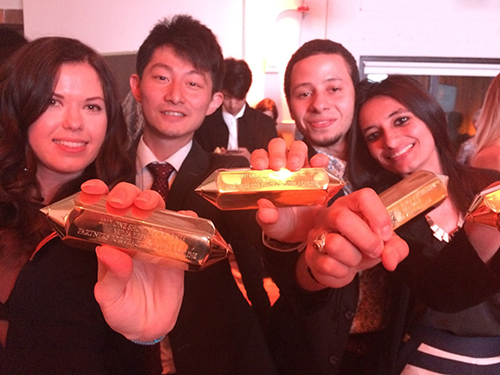 For the second year in a row, a team from City College of New York's Master's Program in Branding + Integrated Communications (BIC) is a GOLD Pencil Winner at The ONE Show's 2017 Young Ones Competition, one of the most prestigious student advertising, interactive and design competitions in the industry. Enmanuel Vargas, Yulia Lesnichaya, Surabhi Govindarajan and Tung-Han Lin won for their partnership proposal "VIDEALL."
A plug-in, VIDEALL is the product of the partnership between Google's Chrome browser and Microsoft's Sign Language Translator. It converts audio, subtitles or closed captioning from online video into sign language, providing digital access to 360 million people with hearing loss.
Winners are chosen from a large, selective pool of international submission—from Milan to Mumbai, Rio de Janeiro to Stockholm—by a jury of top industry professionals and educators.
A second BIC team, comprised of Sean Feol-Baugh, Kacy Charles, Fidel Frias, and Joseph Yoo, was a MERIT award winner for "Three to Free," a one-of-a-kind partnership between five of the world's largest telecoms companies to help stop human trafficking.
"BIC bested more established programs to bring home the Gold, " BIC Program Director Nancy Tag said. "This year, four multi-disciplinary teams made it to the finals. It's quite amazing. We're thankful to BIC Instructor Jason Stefanik who once again led BICsters to victory."
The One Show awards the best advertising from the around the world and is widely regarded as the industry's equivalent to the Oscars for creative excellence in advertising and branding.
About The City College of New York

Since 1847, The City College of New York has provided low-cost, high-quality education for New Yorkers in a wide variety of disciplines. Today more than 16,000 students pursue undergraduate and graduate degrees in eight professional schools and divisions, driven by significant funded research, creativity and scholarship.  Now celebrating its 170th anniversary, CCNY is as diverse, dynamic and visionary as New York City itself.  View CCNY Media Kit.