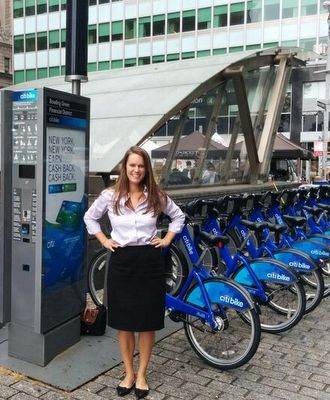 Bus riders in New York City may now be opting to use bikeshare, according to a new study co-written by City College of New York Assistant Professor Candace Brakewood. This is the key finding of her peer-reviewed research study with Columbia University's Kayleigh Campbell that was recently featured on the Atlantic's CityLab website.
Brakewood and Campbell studied trips made in New York City between May 2012 and July 2014 to assess how bus ridership changed after the introduction of the city's bikesharing system, called Citi Bike.  Bus routes were divided into control and treatment groups based on whether or not they were located in areas that received bikesharing infrastructure. They found that a significant decrease in bus ridership on treated routes, compared to control routes, coincided with the implementation of the bikesharing system in New York City.
"The results from our preferred model indicate that every thousand bikesharing docks along a bus route is associated with a 2.42% fall in daily unlinked bus trips on routes in Manhattan and Brooklyn," wrote Brakewood and Campbell.   Although the magnitude of the reduction is a small proportion of total bus trips in New York City, the findings suggest two things: either a large proportion of overall bikeshare members are substituting bikesharing for bus trips or bikesharing may have impacted the travel behavior of non-members, such as private bicyclists.
"Understanding how bikesharing and public transit systems are interrelated is vital for planning a mutually reinforcing sustainable transport network," wrote Brakewood and Campbell.
About The City College of New York
Since 1847, The City College of New York has provided low-cost, high-quality education for New Yorkers in a wide variety of disciplines. More than 15,000 students pursue undergraduate and graduate degrees in eight professional schools and divisions. View CCNY Media Kit.