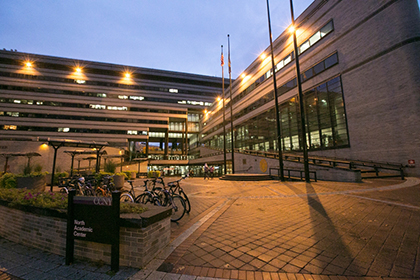 The City College of New York's annual Black History Month observances this year include discussions on cultural and social issues, along with live performances and music.
The schedule begins on Tuesday, Feb. 2 with the traditional Black History Month kickoff in City College's NAC Ballroom, 12 p.m. to 2 p.m. Open to members of the CCNY community only, it will feature interactive activities, music and rundown of all the events during the month of February.
On Tuesday, Feb. 11, "Diversity Talks" features special guests in a panel discussion on hip hop and social justice. It will be held in the NAC Ballroom, 12 p.m. to 2 p.m.
Other highlights include two events, also in the NAC Ballroom, that are open to the public.
On Monday, Feb. 17, "Wednesday Night Live," 7:30 p.m. to 9:30 p.m., offers live entertainment to students and members of the community.
The observance ends on Monday, Feb. 29, with a community-focused program, 7 p.m. to 9:30 p.m., entitled "Black History Month Closing." The public is invited to attend and learn about local stores in the community. There will also be an art display, music and free food.
Additional information on Black History Month at City College can be found on the CCNY calendar of events.
The events are presented by the Black History Month Committee.
About The City College of New York
Since 1847, The City College of New York has provided low-cost, high-quality education for New Yorkers in a wide variety of disciplines. More than 16,000 students pursue undergraduate and graduate degrees in: the College of Liberal Arts and Sciences; the Bernard and Anne Spitzer School of Architecture; the School of Education; the Grove School of Engineering; the Sophie Davis School of Biomedical Education, and the Colin Powell School for Civic and Global Leadership. U.S. News, Princeton Review and Forbes all rank City College among the best colleges and universities in the United States.