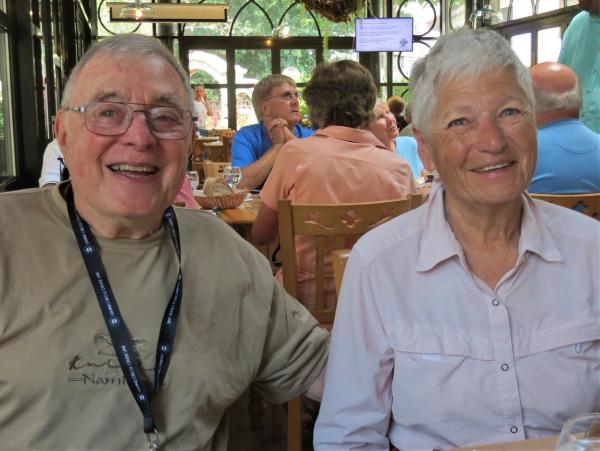 Almunus Norman Klein and his wife Harriet have established the Norman Klein Scholarship for graduate mechanical engineering students in CCNY's Grove School of Engineering.
A new endowed scholarship, the Norman Klein Scholarship, has been created to support graduate students in the Department of Mechanical Engineering at The City College of New York. The scholarship, which is pending CUNY Board of Trustees approval, will provide expenses for recipients, which may include tuition and fees, as well as support for students to participate in national project competitions. The first Norman Klein (1958 & 1961) Scholarship will be awarded in the 2022/2023 academic year.
The scholarship has been established by Norman Klein, who graduated from CCNY with a BS in 1958, and a master's degree in mechanical engineering in 1961.

Norman was born in 1935 in Brooklyn. The summer following his sophomore year at CCNY, while working as a busboy at a resort in the Catskill Mountains, Norman met Harriet Sorocki. Norman and Harriet married three years later. Harriet, born in 1938, and a 1961 graduate of Brooklyn College, spent many years after her mother's death in foster care. Harriet's story was the impetus for the couple's lifelong dedication to social justice and child welfare.
Unable to have a child of their own, initially, the couple adopted their first daughter in 1961 while living in Southern California, where Norman was working for a large aerospace company. They adopted five children, three interracial, and eventually had two birth children.
The family relocated to the Seattle area in in 1971 "with an army of little kids," said Norman. For the Kleins, when it came to children, too much was never enough. They joined the Interracial Family Association, and when Norman was president, they hosted a National Conference on interracial adoption in Seattle.
Over time, the Kleins housed more than 20 foster children and exchange students, from countries such as Japan and Costa Rica, even hosting a family of five from Ethiopia until they could settle permanently in the US.
The Kleins decided to fund the scholarship because, as Norman put it: "We have always believed that education enhances opportunities in life." He added: "We are 83 and 86. We want to start this while we are both still here."
About the City College of New York
Since 1847, The City College of New York has provided a high-quality and affordable education to generations of New Yorkers in a wide variety of disciplines. CCNY embraces its position at the forefront of social change. It is ranked #1 by the Harvard-based Opportunity Insights out of 369 selective public colleges in the United States on the overall mobility index. This measure reflects both access and outcomes, representing the likelihood that a student at CCNY can move up two or more income quintiles. In addition, the Center for World University Rankings places CCNY in the top 1.8% of universities worldwide in terms of academic excellence. Labor analytics firm Emsi puts at $1.9 billion CCNY's annual economic impact on the regional economy (5 boroughs and 5 adjacent counties) and quantifies the "for dollar" return on investment to students, taxpayers and society. At City College, more than 16,000 students pursue undergraduate and graduate degrees in eight schools and divisions, driven by significant funded research, creativity and scholarship. CCNY is as diverse, dynamic and visionary as New York City itself. View CCNY Media Kit.