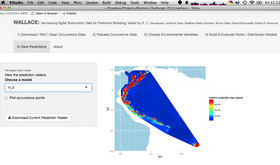 "WALLACE," a biodiversity web application created by a team led by City College of New York biologists Robert P. Andersonand Jamie M. Kass, is one of six finalists selected worldwide by the Global Biodiversity Information Facility (GBIF) in the inaugural Ebbe Nielsen Challenge. The first and second-place winners will be announced at the GBIF Governing Board meeting in Madagascar this October.
"The creativity and ambition displayed by the finalists is inspiring," said Roderic Page, chair of the Challenge jury and the GBIF Science Committee. "My biggest hope for the Challenge was that the biodiversity community would respond with innovative—even unexpected—entries. My expectations have been exceeded."
"WALLACE" allows users to download data from the GBIF network and predict the areas environmentally suitable for a species. It harnesses two tools developed by Anderson's lab, helping users generate high-quality predictive models and map the results.  
According to Anderson, such models have applications for the study of invasive species, diseases, conservation, and the effects of climate change. In addition, the software is accessible to the general public as well. 
 Kass, a second-year Ph.D. student mentored by Anderson, was the lead developer of "WALLACE" (named in honor of Alfred Russel Wallace, the co-discoverer of evolution by natural selection and the founder of the field of biogeography). Postdoctoral researchers Matthew Aiello-Lammens (University of Connecticut) and Robert Muscarella (Aarhus University, Denmark), as well as Ph.D. student Bruno Vilela (Universidad de Alcalá, Spain) were the other members of the team.
About The City College of New York
Since 1847, The City College of New York has provided low-cost, high-quality education for New Yorkers in a wide variety of disciplines. More than 16,000 students pursue undergraduate and graduate degrees in: the College of Liberal Arts and Sciences; the Bernard and Anne Spitzer School of Architecture; the School of Education; the Grove School of Engineering; the Sophie Davis School of Biomedical Education, and the Colin Powell School for Civic and Global Leadership. U.S. News, Princeton Review and Forbes all rank City College among the best colleges and universities in the United States.