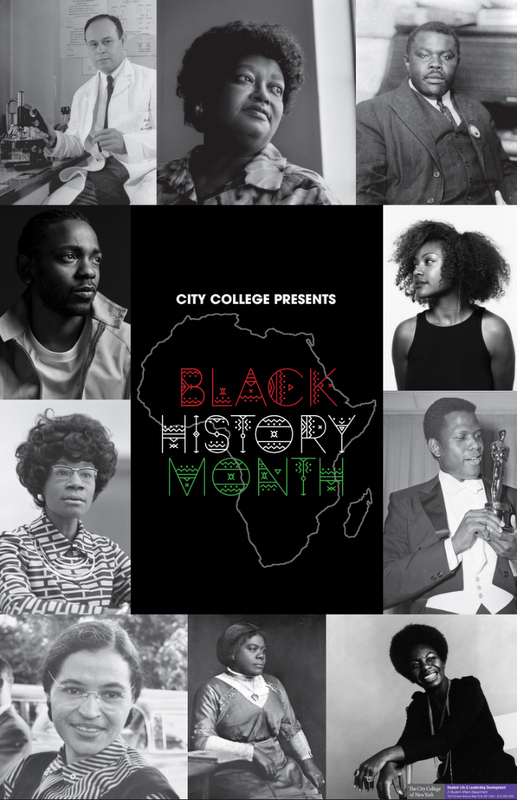 In celebration of Black History 2020
A celebration of black inventors, arts and crafts lessons, and an awards ceremony recognizing exceptional black faculty are some of the events during The City College of New York's 2020 Black History Month observance.
The schedule begins Tuesday, Feb. 4 with the traditional Black History Month kickoff, 6:30 - 9 p.m., in City College's NAC Ballroom. It is co-presented by the Division of Student Affairs' Department of Student Life & Leadership Development, and the Black Studies Program.
On Friday, 12 – 2 p.m., Feb. 7, CCNY's National Society of Black Engineers student chapter hosts "Blacks in STEM."  This informative event on notable black inventors and scientists is presented in a game format. Contact the Department of Student Life & Leadership Development for venue information.
Other events include:
•    Feb. 10, "Black Love," food, karaoke and discussion, 7 – 8:30 p.m., in NAC 1/212, presented by CCNY student radio station WCCR;
•    Feb. 13, "Rotunda Takeover," a showcase of CCNY's black student clubs/organizations, 12 – 2 p.m., NAC rotunda;
•    Feb. 13, "Mask Creation," a two-part arts and crafts session teaching students how to replicate carnival masks of the Dominican Republic – 6:30 – 9:30 p.m. in the faculty dining room;
•    Feb. 27, "Dominican Independence Rotunda Takeover," in celebration of Dominican independence, 12 – 2 p.m., NAC Rotunda;
The observance ends on Monday, Feb. 28 with an awards ceremony, 7 – 10 p.m., recognizing black faculty at CCNY making a difference on and off campus. Presented by the Undergraduate Student Government, it includes
performances by college artists.
 
Additional information on Black History Month at City College can be found on the CCNY calendar of events.
The events are presented by the Black History Month Committee.
About The City College of New York
Since 1847, The City College of New York has provided a high quality and affordable education to generations of New Yorkers in a wide variety of disciplines. CCNY embraces its role at the forefront of social change. It is ranked #1 by the Harvard-based Opportunity Insights out of 369 selective public colleges in the United States on the overall mobility index. This measure reflects both access and outcomes, representing the likelihood that a student at CCNY can move up two or more income quintiles In addition, the Center for World University Rankings places CCNY in the top 1.2% of universities worldwide in terms of academic excellence. More than 16,000 students pursue undergraduate and graduate degrees in eight professional schools and divisions, driven by significant funded research, creativity and scholarship. CCNY is as diverse, dynamic and visionary as New York City itself. View CCNY Media Kit.