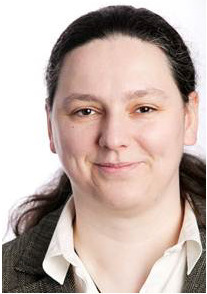 Ilona Kretzschmar, chair of chemical engineering in The Grove School of Engineering at The City College of New York, is one of the American Association for the Advancement of Science's new 2016 Fellows. Dating back to 1874, the honor is bestowed upon AAAS members by their peers because of their scientifically or socially distinguished efforts to advance science or its applications.
Kretzschmar was elected as a fellow in the engineering section for her distinguished contributions to the field of colloid and interface science, particularly in terms of fabricating and understanding heterogeneous particles.
According to AAAS, Kretzschmar has contributed extensively to the field of anisotropic building blocks, more specifically Janus and patchy particles. Anisotropic building blocks are a new class of materials with anisotropy-driven properties that allow for manipulation through external fields and gradients. For example, her team was first to present a feasible method for the fabrication of patchy particles and has since explored the assembly of Janus and patchy particles in external electric and magnetic fields, their applicability as active materials and their behavior at fluid/fluid interfaces.
Reacting to the AAAS honor, Kretzschmar said. "My thanks go to the many people who have enabled me along the way; my mentors who showed the way, my students who brought and continue to bring my research ideas to fruition, and my fellow colleagues who believe in my ability and vision."
She and the other new Fellows will be recognized February 18 during the 2017 AAAS Annual Meeting in Boston, Mass.
About the American Association for the Advancement of Science
AAAS is the world's largest general scientific society and publisher of the journal Science as well as Science Translational Medicine, Science Signaling (a digital, open-access journal), Science Advances, Science Immunology and Science Robotics. AAAS was founded in 1848 and includes nearly 250 affiliated societies and academies of science, serving 10 million individuals.
About The City College of New York
Since 1847, The City College of New York has provided low-cost, high-quality education for New Yorkers in a wide variety of disciplines. More than 15,000 students pursue undergraduate and graduate degrees in the College of Liberal Arts and Science; Bernard and Anne Spitzer School of Architecture; School of Education; Grove School of Engineering; Sophie Davis Biomedical Education/CUNY School of Medicine; and the Colin Powell School for Civic and Global Leadership. U.S. News, Princeton Review and Forbes all rank City College among the best colleges and universities in the United States.