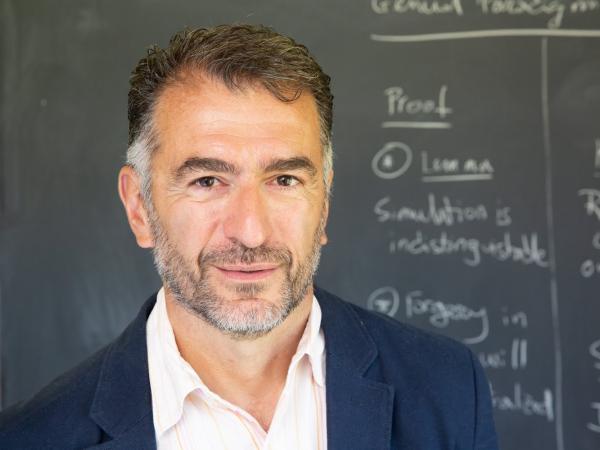 Computer scientist Rosario Gennaro will lead CCNY's effort to advance blockchain systems.
Rosario Gennaro, professor of computer science in The City College of New York's Grove School of Engineering, is the recipient of a five-year $850,000 grant to further CCNY's contributions to the advancement of blockchain systems. The funding is part of a five-year, $5.75 million grant by the Algorand Foundation to a Yale University-led consortium. The Foundation is the charitable arm of blockchain company Algorand, founded in 2017 by Silvio Micali of the Massachusetts Institute of Technology.
The main focus of the CCNY grant, which is eligible for renewal at the end of the five-year period, is on education. It will be used to provide more opportunities for students to study and participate in this burgeoning field. 
The cornerstone of the program will be a six-week summer institute for undergraduates to learn about blockchain and cryptocurrencies, through a combination of lectures, projects and exposure to cutting-edge research. Modeled after the National Science Foundation's Research Opportunities for Undergraduates program, the summer institute will provide scholarships to the participating students.
"This will allow our students to really get their hands on what working in blockchain and crypto areas is like through an intense summer experience," said Gennaro, who also directs City College's Center for Algorithms and Interactive Scientific Software. "There are many good jobs in this area, and this will help students get a foot in the door." 
Gennaro added that the evolution of the World Wide Web and the emergence of blockchain technology – which can be described simply as a public ledger – portends a greater demand for software engineers.
"Web1 was limited to data users," he said. "We are now in Web2, in which users are active participants in large centralized systems – such as Google and Facebook -- which own the data. The dream of Web3 is that of a fully decentralized architecture, one in which you own and control the data that you put on the web." 
Blockchain is the main component of that dream, as it permits that access. 
"There is a great demand for Web3 engineers," he said.
Gennaro has also moved to hire professionals to fill the ranks of the faculty. He recently lured computer scientist Allison Bishop from Columbia University to teach courses in artificial intelligence. He has also bolstered the graduate program in cybersecurity by increasing financial and logistical support.
Yale, meanwhile, will use its grant to establish a Center for Privacy, Accountability, Verification and Economics of Blockchain Systems, to be led by Charalampos Papamanthou, a Yale computer scientist. Gennaro and other CCNY computer scientists will also be faculty members of the Center.
About the City College of New York
Since 1847, The City College of New York has provided a high-quality and affordable education to generations of New Yorkers in a wide variety of disciplines. CCNY embraces its position at the forefront of social change. It is ranked #1 by the Harvard-based Opportunity Insights out of 369 selective public colleges in the United States on the overall mobility index. This measure reflects both access and outcomes, representing the likelihood that a student at CCNY can move up two or more income quintiles. In addition, the Center for World University Rankings places CCNY in the top 1.8% of universities worldwide in terms of academic excellence. Labor analytics firm Emsi puts at $1.9 billion CCNY's annual economic impact on the regional economy (5 boroughs and 5 adjacent counties) and quantifies the "for dollar" return on investment to students, taxpayers and society. At City College, more than 16,000 students pursue undergraduate and graduate degrees in eight schools and divisions, driven by significant funded research, creativity and scholarship. CCNY is as diverse, dynamic and visionary as New York City itself. View CCNY Media Kit.