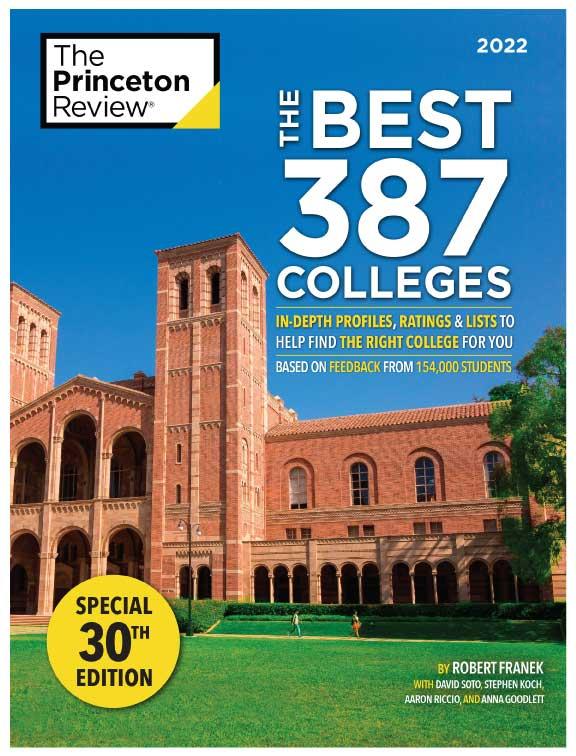 Courtesy of The Princeton Review
The City College of New York is one of the nation's best institutions for undergraduates according to The Princeton Review. The education services company profiles and recommends CCNY in the 2022 edition of its annual college guide, The Best 387 Colleges published today by Penguin Random House and retailing at  $24.99.

Only about 14% of America's 2,700 four-year colleges are profiled in the book, which is one of The Princeton Review's most popular publications. The company chooses the colleges for the book based on data it annually collects from administrators at hundreds of colleges about their institutions' academic offerings. The Princeton Review also considers data it gathers from its surveys of college students at the colleges who rate and report on various aspects of their campus and community experiences.

"We salute The City College for its outstanding academics and we are genuinely pleased to recommend it to prospective applicants searching for their 'best-fit' college," said Rob Franek, The Princeton Review's Editor-in-Chief and lead author of The Best 387 Colleges.

The Princeton Review does not rank the colleges in the book from 1 to 387.  CCNY's inclusion in The Best 387 Colleges, the 30th anniversary edition of the book, is solely due to Princeton Review's high opinion of the College's outstanding academic programs.

The Best 387 Colleges is one of 150 Princeton Review books in a line published by Penguin Random House. It has been featured on NBC "TODAY" more than a dozen times, and referenced by reporters in publications from Inside Higher Education to The Wall Street Journal.

In other rankings, CCNY appears in the Princeton Review's "2022 Best Colleges: Region by Region."  It is one of 654 colleges in five zones -- Northeast, Southeast, Midwest, West, and International (outside of the United States)— recognized as "academically outstanding and well worth consideration in your college search." 

City College is also ranked by the Princeton Review among 2021's top Green Colleges. 

About The Princeton Review 
The Princeton Review®, is a leading tutoring, test prep, and college admission services company. Every year, it helps millions of college- and graduate school–bound students achieve their education and career goals through online and in-person courses delivered by a network of more than 4,000 teachers and tutors, online resources, and its more than 150 print and digital books published by Penguin Random House. The company's Tutor.com brand is one of the largest online tutoring services in the U.S. It comprises a community of thousands of tutors who have delivered nearly 21 million one-to-one tutoring sessions. The Princeton Review is headquartered in New York, NY. The Princeton Review is not affiliated with Princeton University. For more information, visit PrincetonReview.com and the company's Media Center. Follow the company on Twitter (@ThePrincetonRev) and Instagram (@theprincetonreview).

About the City College of New York
Since 1847, The City College of New York has provided a high-quality and affordable education to generations of New Yorkers in a wide variety of disciplines. CCNY embraces its position at the forefront of social change. It is ranked #1 by the Harvard-based Opportunity Insights out of 369 selective public colleges in the United States on the overall mobility index. This measure reflects both access and outcomes, representing the likelihood that a student at CCNY can move up two or more income quintiles. In addition, the Center for World University Rankings places CCNY in the top 1.8% of universities worldwide in terms of academic excellence. Labor analytics firm Emsi puts at $1.9 billion CCNY's annual economic impact on the regional economy (5 boroughs and 5 adjacent counties) and quantifies the "for dollar" return on investment to students, taxpayers and society. At City College, more than 16,000 students pursue undergraduate and graduate degrees in eight schools and divisions, driven by significant funded research, creativity and scholarship. CCNY is as diverse, dynamic and visionary as New York City itself. View CCNY Media Kit.