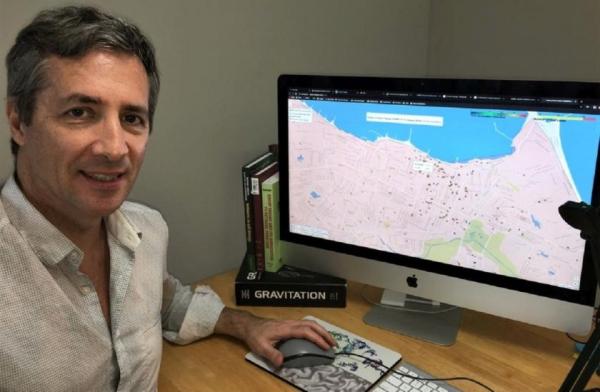 CCNY physicist Hernan Makse and colleagues have developed a mobile app to track and trace those infected with COVID-19.
A new mobile app developed by City College of New York physicist Hernan Makse and his colleagues will track and trace those infected with the novel coronavirus as a means of limiting and containing the spread of the virus, which causes COVID-19.

The K-core Tracing app uses Global Positioning System data to track millions of data points from mobile phone calls, GPS-based app and social media use, Bluetooth signals and public transportation to develop an algorithm that uses location data to find all of a person's contacts. This algorithm uses these data to notify the individual user that he or she has contact with a person who is either infected (by means of a red signal on the device), asymptomatic (a yellow signal), or not infected (a green signal). 

The data gleaned from the app, which is voluntary, are also utilized to identify hot zones in a locality. All data are anonymized and they are deleted after 15 days.

The app has been tested in Fortaleza, the capitol of the Brazilian state of Ceara, and is scheduled to roll out statewide this month.  

"As this pandemic continues, this app has implications for public authorities and companies seeking to curb its spread and to take necessary actions, as well as for citizens needing to know if they have been in contact with infected people, and researchers investigating the coronavirus," said Makse.

K-core Tracing was developed by K-core Analytics, an artificial intelligence-based market and opinion research firm based at The City College. K-core Analytics is a partnership between CCNY, the Federal University of Ceara, and GranData.

About the City College of New York
Since 1847, The City College of New York has provided a high-quality and affordable education to generations of New Yorkers in a wide variety of disciplines. CCNY embraces its position at the forefront of social change. It is ranked #1 by the Harvard-based Opportunity Insights out of 369 selective public colleges in the United States on the overall mobility index. This measure reflects both access and outcomes, representing the likelihood that a student at CCNY can move up two or more income quintiles. In addition, the Center for World University Rankings places CCNY in the top 1.2% of universities worldwide in terms of academic excellence. Labor analytics firm Emsi puts at $1.9 billion CCNY's annual economic impact on the regional economy (5 boroughs and 5 adjacent counties) and quantifies the "for dollar" return on investment to students, taxpayers and society. At City College, more than 16,000 students pursue undergraduate and graduate degrees in eight schools and divisions, driven by significant funded research, creativity and scholarship. CCNY is as diverse, dynamic and visionary as New York City itself. View CCNY Media Kit.