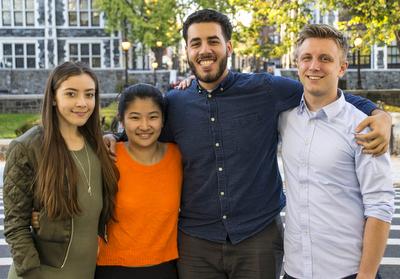 CCNY's University Innovation Fellows from left: Rayna Penn, Lelucksamee Ampawa, Mahmoud Khedr and Kurt Dawiec.
Four City College of New York undergraduates have qualified as student leaders in a global program run by Stanford University to create new opportunities for their peers to engage with innovation, entrepreneurship, design thinking and creativity. They are among 169 new University Innovation Fellows selected internationally by Stanford's Hasso Plattner Institute of Design.
The students (three of whom are sophomores), their majors and home towns, are:
The four did online training designed by Stanford to empower them as agents of change at City College. Their goal is to ensure their peers gain the knowledge, skills and attitudes required to compete in the economy of the future and make a positive impact on the world.
Expectations of the Fellows, who maintain the designation for the remainder of their college years, include designing innovation spaces, starting entrepreneurship organizations, hosting experiential learning events and working with faculty to develop new courses.  They will work in collaboration with CCNY's Zahn Innovation Center, through which all four applied for the Stanford program.
In addition to the training they've done, the CCNY Fellows will travel to the West Coast next March for the annual University Innovation Fellows Silicon Valley Meetup. The other 165 Fellows come from India, Peru, the Netherlands and top schools across the U.S.
About The City College of New York
Since 1847, The City College of New York has provided low-cost, high-quality education for New Yorkers in a wide variety of disciplines. More than 15,000 students pursue undergraduate and graduate degrees in the College of Liberal Arts and Science; Bernard and Anne Spitzer School of Architecture; School of Education; Grove School of Engineering; Sophie Davis Biomedical Education/CUNY School of Medicine; and the Colin Powell School for Civic and Global Leadership. U.S. News, Princeton Review and Forbes all rank City College among the best colleges and universities in the United States.