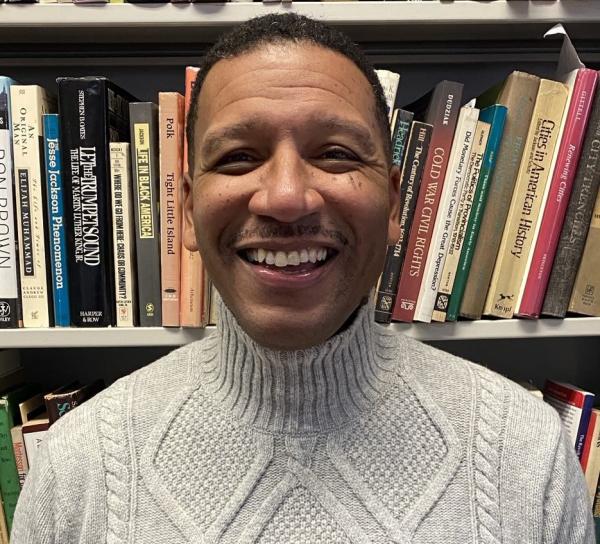 CCNY's William Gibbons, winner of a 2022 "I Love My Librarian" award from the American Library Association.
William C. Gibbons, associate professor and curator of archives and special collections at the City College of New York , is a winner of this year's I Love My Librarian Award. Recognized by the American Library Association (ALA) for the care he brings to his local and campus communities, Gibbons was selected from more than 1,300 nominations from library users across the country. 

Gibbons is a pillar in his community and seamlessly blends his personal interests with his professional scholarship, with a particular focus on Harlem as well as local sports. From his involvement with Harlem Little League Baseball to advising on the development of a museum exhibit exploring New York's basketball history, Gibbons weaves sports and scholarship into unique educational opportunities. Additionally, he has worked to forge partnerships between CCNY and organizations across Harlem, including the New York Public Library's Schomburg Center for Research in Black Culture and the Harlem Documentary Association, to immerse students in the neighborhood's vibrant cultural identity. 

Known to many in his community as a librarian, teacher and mentor, Gibbons has inspired his students to embrace and overcome obstacles. Through the Black Male Initiative, a CUNY-wide student development initiative that seeks to support students' educational success from groups underrepresented in higher education, he has helped forge paths for student participants to become future educators. As his nominator noted, "His work with the Black Male Initiative made it possible for many male college students to find a voice in a world not equipped to embrace them." 

"The face of the everyday person is where William Gibbons does his best work," his nominator wrote. "He gives his time, his expertise, and his skills to anyone who is lucky to encounter him at the library reference desk." 

Gibbons and this year's nine other honorees will each receive a $5,000 cash prize, a $750 donation to their library, and complimentary registration to ALA's LibLearnX. The virtual award ceremony will take place during the conference at 3:30 p.m. CT on Saturday, Jan. 22, 2022. Click here to watch the live stream on Jan. 22. 

Since the award's inception in 2008, library users have shared more than 20,000 nominations detailing how librarians have gone above and beyond to promote literacy, expand access to technology and support diversity and inclusion in their communities. Click here for information about previous award winners. 

Carnegie Corporation of New York generously sponsors the I Love My Librarian Award. The New York Public Library also supports the award. ALA administers the award through its Communications and Marketing Office, which promotes the value of libraries and librarians.  

About the American Library Association 
The American Library Association is the foremost national organization providing resources to inspire library and information professionals to transform their communities through essential programs and services. For more than 140 years, the ALA has been the trusted voice of libraries, advocating for the profession and the library's role in enhancing learning and ensuring access to information for all.  

About the City College of New York
Since 1847, The City College of New York has provided a high-quality and affordable education to generations of New Yorkers in a wide variety of disciplines. CCNY embraces its position at the forefront of social change. It is ranked #1 by the Harvard-based Opportunity Insights out of 369 selective public colleges in the United States on the overall mobility index. This measure reflects both access and outcomes, representing the likelihood that a student at CCNY can move up two or more income quintiles. In addition, the Center for World University Rankings places CCNY in the top 1.8% of universities worldwide in terms of academic excellence. Labor analytics firm Emsi puts at $1.9 billion CCNY's annual economic impact on the regional economy (5 boroughs and 5 adjacent counties) and quantifies the "for dollar" return on investment to students, taxpayers and society. At City College, more than 16,000 students pursue undergraduate and graduate degrees in eight schools and divisions, driven by significant funded research, creativity and scholarship. CCNY is as diverse, dynamic and visionary as New York City itself. View CCNY Media Kit.