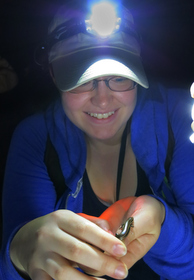 Danielle G. Rivera, a master of Science in biology major at The City College of New York and five recent CCNY graduates have been awarded National Science Foundation (NSF) Graduate Research Fellowships.
The fellowships recognize and support exceptional students who have proposed graduate-level research projects in their fields. Selection is through a national competition. 
Fellows receive an annual stipend of $34,000 and $12,000 cost-of-education allowance for graduate study that leads to a research-based master's or doctoral degree in science or engineering.
 
Rivera graduated from City College with a BS in biology in 2013. Her current research in the Division of Science's Carnaval Labat CCNY is an expansion of her undergraduate work there studying phylogenetics and phylogeography of Mabuya lizards in South America.
She hopes to continue studying broadly-distributed herps [reptiles and amphibians] in heterogeneous environments by pursuing a PhD.
CCNY's other new Fellows, besides Rivera, and the institutions where they are doing graduate work are:
Adam Ahmed Atia, environmental engineering, Columbia University;
Sankha Ghatak, bioengineering, University of California, San Diego;
Jannatun Nayem, chemical engineering, University of Delaware;
John Sebastian Ruano-Salguero, chemical engineering, University of Delaware;
Adrianna Trusiak, geochemistry, University of Michigan Ann Arbor.
About The City College of New York
Since 1847, The City College of New York has provided low-cost, high-quality education for New Yorkers in a wide variety of disciplines. More than 16,000 students pursue undergraduate and graduate degrees in: the College of Liberal Arts and Sciences; the Bernard and Anne Spitzer School of Architecture; the School of Education; the Grove School of Engineering; the Sophie Davis School of Biomedical Education, and the Colin Powell School for Civic and Global Leadership. U.S. News, Princeton Review and Forbes all rank City College among the best colleges and universities in the United States.