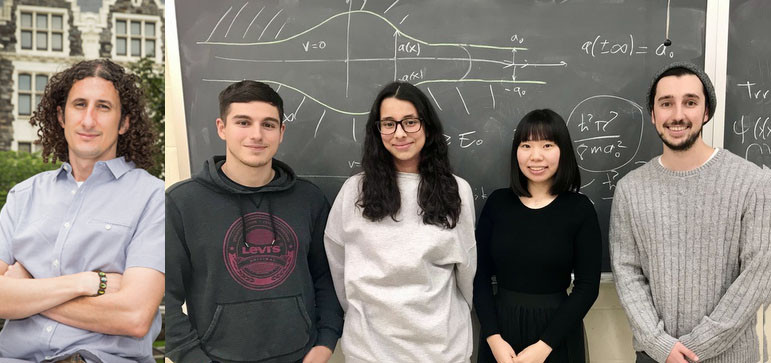 Faculty advisor Sebastian Franco and his CCNY Society of Physics Students chapter members [from left]: Mike Gaziani, Jireh Garcia, Lisa Chan and Matthew Kubikowski.
The City College of New York student chapter of the Society of Physics Students (SPS) is the recipient of an Outstanding Chapter Award from the SPS National Office. This is the second time the chapter has been recognized for its excellence as a top-tier student-led physical sciences organization, a designation given to fewer than 15 percent of all SPS chapters at colleges and universities in the United States and internationally.
The College Park, Maryland-based Society of Physics Students (SPS) is a professional association designed for students and membership is open to anyone interested in physics and related fields. SPS operates within the American Institute of Physics (AIP), an umbrella organization for professional physical science societies.
Sebastian Franco, physics professor in the Division of Science, is the faculty advisor of CCNY's SPS chapter. It's led by student officers Lisa Chan, Jireh Garcia, Matthew Kubikowski and Mike Gaziani.
SPS chapters are evaluated on their level of interaction with the campus community, the professional physics community, the public, and with SPS national programs. The Outstanding Chapter Award recognizes high levels of outreach as well as unique approaches to fulfilling the mission of SPS to "help students transform themselves into contributing members of the professional community."
About The City College of New York
Since 1847, The City College of New York has provided a high quality and affordable education to generations of New Yorkers in a wide variety of disciplines. CCNY embraces its role at the forefront of social change. It is ranked #1 by the Harvard-based Opportunity Insights out of 369 selective public colleges in the United States on the overall mobility index. This measure reflects both access and outcomes, representing the likelihood that a student at CCNY can move up two or more income quintiles In addition, the Center for World University Rankings places CCNY in the top 1.2% of universities worldwide in terms of academic excellence. More than 16,000 students pursue undergraduate and graduate degrees in eight professional schools and divisions, driven by significant funded research, creativity and scholarship. CCNY is as diverse, dynamic and visionary as New York City itself. View CCNY Media Kit.