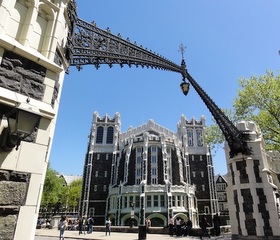 The City College of New York has maintained its standing as one of the nation's most ethnically diverse institutions. City College is second among regional universities in the north for ethnic and economic diversity, according to the U.S. News & World Report 2016 rankings.
Excluding international students, U.S. News factored in the proportion of minority students based on the 2014-2015 academic year student body to establish the diversity index. With 1.0 as the highest mark, the diversity index for City College is 0.73.
This makes CCNY's one of the top schools where students "are most likely to encounter undergraduates from different ethnic groups." Hispanics, at 32.5%, are the largest ethnic student group at the college. Asian Americans (26%), African-Americans (20%), and Caucasians (20%) are the other major ethnic groups on campus.
Overall, CCNY is ranked #66, and is one of the top three in alumni giving, among 618 Regional Universities in the North. The alumni giving rate is 21%.
The college also scored highly in:
Academic excellence—where it is among only one-third of the top 100 institutions scoring 3.0 or higher on a scale of one to five by its peers (presidents, provosts, and deans of admissions); and
Retention—Freshman retention rate at City College is 85%;
U.S. News defines regional universities as those providing a full range of undergraduate majors and master's programs and a few doctoral programs. Regional universities are in four categories—North, South, Midwest, and West—because they generally attract students from the surrounding states.
Previously, CCNY was selected as one of the nation's best institutions for undergraduate education by the Princeton Review and as one of America's best colleges by Forbes.
About The City College of New York
Since 1847, The City College of New York has provided low-cost, high-quality education for New Yorkers in a wide variety of disciplines. More than 16,000 students pursue undergraduate and graduate degrees in: the College of Liberal Arts and Sciences; the Bernard and Anne Spitzer School of Architecture; the School of Education; the Grove School of Engineering; the Sophie Davis School of Biomedical Education, and the Colin Powell School for Civic and Global Leadership. U.S. News, Princeton Review and Forbes all rank City College among the best colleges and universities in the United States.