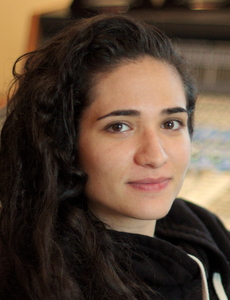 When the credits roll for Domenica Cameron-Scorsese's debut feature, "Almost Paris," at its  Tribeca Film Festival premier April 24, among the names on the screen will be Jasmin Klinger's, a City College of New York BFA music major. The junior from Israel scored the music for the film by Martin Scorsese's actress-director daughter. Klinger composed, recorded and mixed the score at City College's Sonic Arts Center (SAC).
Klinger is also credited for another song in the 90-minute comedy/drama whose cast includes Wally Marzano-Lesnevich, Michael Sorvino and Adrian Martinez.
Klinger talks about the opportunity, saying: "someone I know from Israel introduced me to a producer who knows the director (Cameron-Scorsese)." She credits CCNY and its top class Sonic Arts Program for preparing her for it.
"Everything that I've learned in the program helped me tremendously with this project," she said. "It's an amazing program with very high standards and faculty that are real professionals from the industry."
Klinger, who's previously scored music for two documentaries in Israel, pointed out that all the music score work on "Almost Paris" was done at SAC before the final mix at a lower Manhattan studio.
SAC was founded in 1994 by audio engineer and composer Paul Kozel, who also serves as director. Staffed by award-winning professionals from every facet of the music and audio technology industry, the center combines academics and hands-on experience in a professional setting.
Notable CCNY music alumni include legendary lyricists Yip Harburg and Ira Gershwin.
About The City College of New York
Since 1847, The City College of New York has provided low-cost, high-quality education for New Yorkers in a wide variety of disciplines. More than 15,000 students pursue undergraduate and graduate degrees in the College of Liberal Arts and Science; Bernard and Anne Spitzer School of Architecture; School of Education; Grove School of Engineering; Sophie Davis Biomedical Education/CUNY School of Medicine; and the Colin Powell School for Civic and Global Leadership. U.S. News, Princeton Review and Forbes all rank City College among the best colleges and universities in the United States.