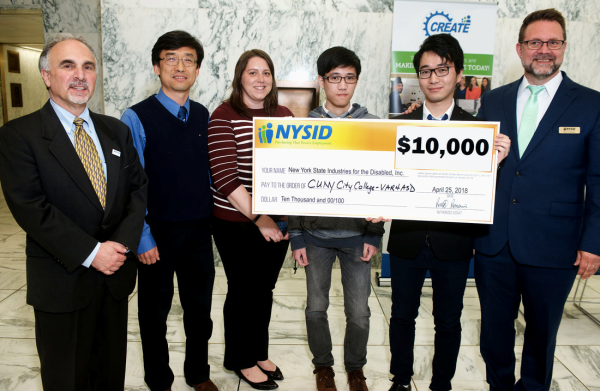 NYSID President & CEO Ron Romano Prof. Zhigang Zhu, Ms. Celina Cavalluzzi (Goodwill), two AVR4ASD team members (Rafael Li Chen and Xinyu Xiong), and NYSID Market Manager Brian Bateman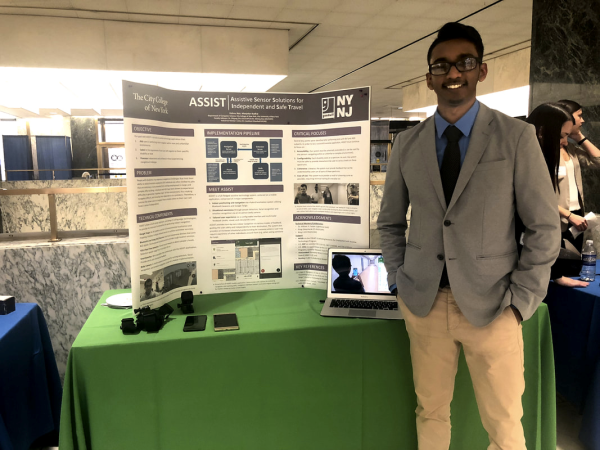 ASSIST team: Manjekar Budhai with Vishnu Nair (on laptop screen)
According to the NY Department of Labor, New York's current unemployment rate continues to hover below 5 percent. But for New York residents with disabilities the rate is a staggering 70 percent –  partly due to the challenges they face in the average workplace.
Students of the Grove School of Engineering at the City College of New York are trying to change that by taking part in the CREATE Competition, which challenges them to develop innovative technologies that remove workplace barriers. 
CREATE, a New York State Industries for the Disabled (NYSID) program, offers student engineers the opportunity to put their knowledge to use in the context of a real-life experience during their capstone projects. Students representing 14 teams from eight colleges are provided $1,000 per team to prototype an invention and compete for CREATE prizes of $15,000, $10,000 and $5,000. Nine NYSID member agency not-for-profits are the recipients of the new technologies.
This April, two City College teams attracted attention from professionals and NYS policymakers for their innovative solutions during the 2018 NYSID CREATE Symposium held in the Legislative Office Building in Albany. Both projects were rated high by a panel of eight judges of field engineers and rehabilitation professionals during the half-day exhibition, listed No 2 and No 5 respectively.
Rafael Li Chen, Xinyu Xiong, and Yuxuan Huang, all computer science majors, won the second-place prize of $10,000 for creating AVR4ASD (Augmented and Virtual Reality for Individuals with Autism Spectrum Disorder) which trains and guides individuals with ASD to independently travel between home and their workplace.
Manjekar Budhai and Vishnu Nair, both computer engineering majors, received significant media coverage for their ASSIST (Assistive Sensor Solution for Independent and Safe Travel) cell phone app. The app guides those who are autistic or visually impaired, helping them safely navigate an indoor location using voice commands. The app has been supported by National Science Foundation, Department of Homeland Security, Lighthouse Guild and Bentley Systems, Incorporated.
Both of these CREATE projects were developed in partnership with Goodwill Industries of Greater New York and Northern New Jersey.
The faculty advisor for both teams was Dr. Zhigang Zhu, Herbert G. Kayser Professor of Computer Science in the Grove School of Engineering. For the last seven years, Zhu has run a joint senior design program with Dr. Jizhong Xiao, Professor of Electrical Engineering (EE) of the Grove School on Assistive Technology for CS, CpE and EE seniors. The program is supported by the National Science Foundation, VentureWell and NYSID.
About The City College of New York
Since 1847, The City College of New York has provided a high quality and affordable education to generations of New Yorkers in a wide variety of disciplines. Today The Chronicle of Higher Education ranks CCNY #2 among public colleges with the greatest success in ensuring the social mobility of our student body; at the same time the Center for world University Rankings places it in the top 1.2% of universities worldwide in terms of academic excellence. More than 16,000 students pursue undergraduate and graduate degrees in eight professional schools and divisions, driven by significant funded research, creativity and scholarship. CCNY is as diverse, dynamic and visionary as New York City itself. View CCNY Media Kit.