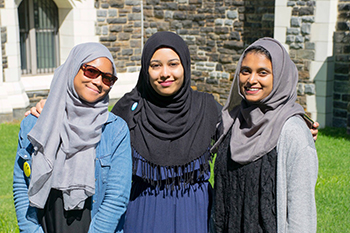 Six City College of New York students intern at some of New York City's finest arts and cultural institutions for 24 weeks throughout the academic year as part of CUNY Cultural Service Corps, a new paid internship program.
The launch of this program promotes diversity within the city of New York's cultural sector and will introduce each student to different departments within their internship sites: curatorial, development, education, special events and more. Students also participate in cultural enrichment workshops.
The students are:
·      Bushra Begum, English, Lincoln Center;
·      Jasmin Calle, biology, Museum of the City of New York;
·      Carla Calle, biology, Museum of the Moving Image;
·      Farhana Chowdhury, psychology, Jamaica Center for Arts and Learning;
·      Maryam Hinson, English, Museum of Jewish Heritage;
·      Sabrina Yeasmin, mathematics and business administration, Queens Museum.
"As a poet, and a former Bronx Museum Teen Counselor, I always had love for the arts. Now it feels like my passion for the arts has potential to turn into a life long career. I am grateful to CUNY Cultural Corps for creating this bridge," says junior Begum.
The New York City Department of Cultural Affairs and The Rockefeller Foundation each donated $500,000 to the $1 million initiative that is set to provide 85 students from 13 different CUNY colleges the chance to intern at 32 different cultural institutions this year.
About The City College of New York
Since 1847, The City College of New York has provided low-cost, high-quality education for New Yorkers in a wide variety of disciplines. More than 15,000 students pursue undergraduate and graduate degrees in the College of Liberal Arts and Science; Bernard and Anne Spitzer School of Architecture; School of Education; Grove School of Engineering; Sophie Davis Biomedical Education/CUNY School of Medicine; and the Colin Powell School for Civic and Global Leadership. U.S. News, Princeton Review and Forbes all rank City College among the best colleges and universities in the United States.