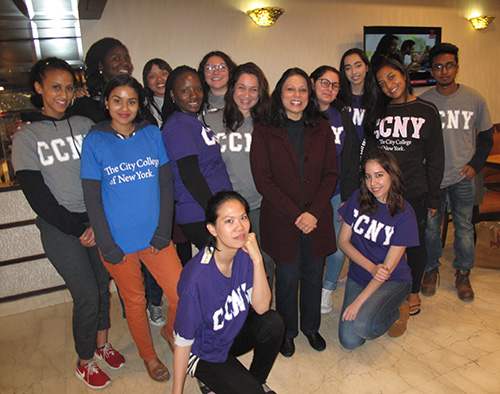 Back from the institution's inaugural study abroad program to India, City College of New York education majors are wasting no time applying their new Asian experience in the classroom.
"They are saying the transformative experience there has made them better teachers," said Aminata Diop, a Phd candidate who was one of 13 students on the trip. "They've started implementing some of the things they saw in India in their classrooms because the practices were so good."
As part of the intensive two-week program, students immersed themselves in the culture and also got to visit several classrooms one of which was in a slum, an impoverished neighborhood, where the preschoolers learn sitting on the floor because of limited space and resources. One teacher used her bangles as a tool to teach mathematics.
"Private schools are too expensive", said Amita Gupta, chair of the CCNY School of Education's Department of Teaching, Learning and Culture who led the group. "There are not enough government schools for everyone so non-profits fill this gap; they go into these very poor communities to offer educational experiences."
Students made journal entries throughout the trip and presented their experience to the college community as a final project. Each conveyed a different narrative and perspective, and they used words like friendship, awoken, transformed, culturally rich and bittersweet to capture their experience in India.
About The City College of New York
Since 1847, The City College of New York has provided low-cost, high-quality education for New Yorkers in a wide variety of disciplines. More than 15,000 students pursue undergraduate and graduate degrees in eight professional schools and divisions. View CCNY Media Kit.