Ariel Miara, a PhD candidate and research associate at the Environmental Sciences Initiative helped do a deeper assessment of U.S. power supply vulnerabilities.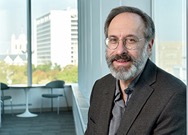 Charles Vörösmarty, PhD, the Founding Director of the Environmental Sciences Initiative.
Here's a bit of surprising news. A closer look at how climate change could impact our power supply shows that America's infrastructure might be more adaptable than scientists anticipated.
The results appear in a paper published in Nature Climate Change by Ariel Miara, a PhD Candidate in The City College of New York's Grove School of Engineering and Charles J. Vörösmarty, Presidential Professor of civil engineering in the Grove School. One of the study's key findings: climate change will negatively affect U.S. power supply reliability. But maintenance and a commitment to cleaner, more efficient energy technology and infrastructure may in fact result in a more resilient power grid.
Miara and other Advanced Science Research Center (ASRC), GC/CUNY scientists worked with researchers from National Renewable Energy Laboratory and Sandia National Laboratories to do a deeper assessment of U.S. power supply vulnerabilities. The team analyzed 1,080 thermoelectric plants across the contiguous United States under future climate conditions and evaluated both their individual and collective performance across 19 North American Electric Reliability Corporation (NERC) sub-regions. Previous studies projecting power supply capacity only considered individual plant capabilities without placing them in a more realistic, regional systems-wide context.
Although the study's findings are encouraging, the paper's authors say further understanding of the collective strengths and vulnerabilities of the U.S. power grid in the face of climate change is essential.
Click here to learn more about the study and the ASRC.
About The City College of New York
Since 1847, The City College of New York has provided low-cost, high-quality education for New Yorkers in a wide variety of disciplines. Today more than 16,000 students pursue undergraduate and graduate degrees in eight professional schools and divisions, driven by significant funded research, creativity and scholarship.  Now celebrating its 170th anniversary, CCNY is as diverse, dynamic and visionary as New York City itself. View CCNY Media Kit.
Rebecca Rivera
212.650.5310