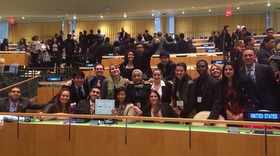 An 18-member student team from The City College of New York won the Distinguished Delegation Award at the 25thNational Model United Nations (NMUN) Conference in Manhattan March 26.
The City College undergraduates, who represented Uruguay, received the award from the National Collegiate College Association (NCCA) for their outstanding work during deliberations in assigned committees. 
"Our students demonstrated their knowledge of the United Nations as well as their skills in diplomacy, public speaking and negotiations" said Rafal Szczurowski, adjunct instructor in CCNY's international studies program and the Model UN team's faculty advisor. "We prepared for two consecutive semesters and it clearly paid off." 
NMUN/NYC is the largest and most prestigious conference of its kind attracting close to 5,000 delegates from six continents. In the spirit of experiential learning participants spend a week in various committees, working on resolutions and treaties, negotiating and engaging in debates.
The CCNY delegation comprised the following students from Szczurowski's Model UN course in City College'sColin Powell School for Civic and Global Leadership:
Taimoor Arif, Dalvin Delia, Sheyla Flores, Nelson Jarrin, Tracey Liriano, Claire Lynch, Leticia Marotti, Sarah Mourssi, Iryna Oksaniuk, ByungEun "Jason" Park, Eliezer Ramos, Rabia Sajid, Natalie Shields, Valeria Starobrzenski, Matthew Sunday and Anasimon Waheb Takla
Rana Hassan and Zach Soliman were the head delegates while three other undergraduates: Maria Deaquis, Lena Kheir and Esraa Saleh served as committee advisors.  
UN Secretary General Ban Ki-moon spoke at the closing ceremony at the UN secretariat.
About The City College of New York
Since 1847, The City College of New York has provided low-cost, high-quality education for New Yorkers in a wide variety of disciplines. More than 16,000 students pursue undergraduate and graduate degrees in: the College of Liberal Arts and Sciences; the Bernard and Anne Spitzer School of Architecture; the School of Education; the Grove School of Engineering; the Sophie Davis School of Biomedical Education, and the Colin Powell School for Civic and Global Leadership. U.S. News, Princeton Review and Forbes all rank City College among the best colleges and universities in the United States.