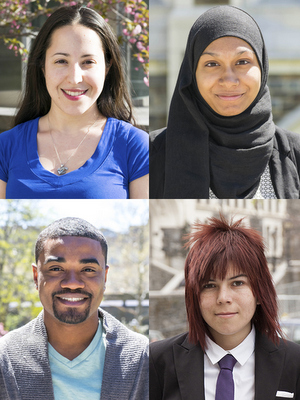 For the second year running, The City College of New York is the recipient of four of the eight Jonas E. Salk Scholarships awarded by The City University of New York this year.  The scholarships recognize exceptional students who plan careers in medicine and the biological sciences.
As Salk Scholars, Marisol Cortés, Anika Nabila, Christopher Reid and Violeta Contreras Ramirez will each receive a stipend of $8,000 to be appropriated over three or four years of medical studies.
Cortés, who is Mexican-born, is graduating with a BS in biochemistry. The Mount Vernon resident will attend the Johns Hopkins University School of Medicine for a PhD in biochemistry, cellular and molecular biology.
Nabila will receive a BS in biology from the Macaulay Honors College at CCNY.  From Elmhurst, Queens, she will attend the Weill Cornell Graduate School of Medical Sciences and pursue a PhD in neuroscience.
Reid is headed to Harvard Medical School after earning his BS in biology this June. The Yonkers resident will study neuroscience.
Violeta Contreras Ramirez, also a Mexican immigrant, was CCNY's Class of 2015 Valedictorian. She graduated from the college's Honors Program with a double major in biology and psychology.
She will attend Yale School of Medicine and is interested in neurology and other neuroscience-related fields.
The Salk Scholarship is named for Dr. Jonas Salk, a 1934 graduate of City College, who developed the first polio vaccine in 1955. Dr. Salk turned down a tickertape parade in honor of his discovery, and asked that the money be used for scholarships instead. New York City provided initial funding for the scholarships that year.

About The City College of New York
Since 1847, The City College of New York has provided low-cost, high-quality education for New Yorkers in a wide variety of disciplines. Today more than 16,000 students pursue undergraduate and graduate degrees in eight professional schools and divisions, driven by significant funded research, creativity and scholarship.  Now celebrating its 170th anniversary, CCNY is as diverse, dynamic and visionary as New York City itself.  View CCNY Media Kit.