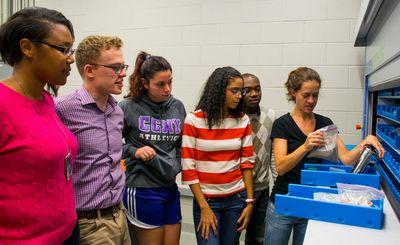 STEM education at The City College of New York is set for a quantum leap with the receipt of a $5.2 million grant from the U.S. Department of Education. The five-year award to the only senior STEM campus in the CUNY system is for a project dubbed the CCNY Initiative to Promote Academic Success in STEM or "CiPASS." Its main goals are to improve CCNY graduation and retention rates and increase the number of students receiving STEM degrees, particularly those from underrepresented groups.
The five key elements of CiPASS are:
 
A summer STEM Bridge Program to improve the readiness and academic self-confidence of entering students;
Online instruction to support math skills development;
Real-time performance assessment with individualized academic intervention;
Experiential and entrepreneurial learning; and
Recruitment and support for transfer students in partnership with CUNY Community Colleges.
 
A major highlight under experiential and entrepreneurial learning is the creation of a "Makerspace" at CCNY, bringing students, industry and faculty together to collaborate, said Jorge E. Gonzalez, professor of mechanical engineering and the grant's principal investigator.
Makerspaces, Gonzales added, have been the cornerstone of China's technological advancement and will change how CCNY prepares students for STEM (science, technology, engineering and math) careers.
Approximately 33% of City College's undergraduate population is enrolled in STEM disciplines. CCNY has more than 15,000 students, 84% of whom are undergraduates.
Other CCNY faculty involved in CiPASS are: Feridun Delale (mechanical engineering),
Joseph Barba (electrical engineering), Fred Moshary (electrical engineering), Karin Block (earth and atmospheric science) and Ellen Smiley (psychology).
About The City College of New York
Since 1847, The City College of New York has provided low-cost, high-quality education for New Yorkers in a wide variety of disciplines. More than 15,000 students pursue undergraduate and graduate degrees in the College of Liberal Arts and Sciences; Bernard and Anne Spitzer School of Architecture; School of Education; Grove School of Engineering; Sophie Davis Biomedical Education/CUNY School of Medicine, and Colin Powell School for Civic and Global Leadership. U.S. News, Princeton Review and Forbes all rank City College among the best colleges and universities in the United States.