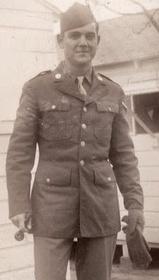 New exhibit at CCNY honors Dominican veterans like Tito Enrique Canepa who served in the U.S. Army during World War II and later became a noted painter. Photo credit: The Tito Canepa Collection. Dominican Studies Institute Archives, City College, CUNY.
To honor the many Dominicans that served in the U.S. military during World War II, the CUNY Dominican Studies Institute hosts a series of discussions, screenings and an exhibit, Nov. 11, 2015 through Mar. 31, 2016, at The City College of New York. The events are in collaboration with and supported by a grant from the national initiative, "Latino Americans: 500 Years of History." 
The program begins on Veterans Day, Wednesday, Nov. 11, at 6:30 p.m. with the exhibit, "Fighting for Democracy: Dominican Veterans from World War II." The exhibit will be on view in the CUNY DSI's Archives and Library in City College's NAC Building, room 2/202.
The exhibit highlights the experiences of Dominican veterans in World War II. It traces their stories from their arrival in the United States, their incorporation into the war, and their post-war experiences.
Other events include a panel discussion, "Dominicans in the U.S. Armed Forces during World War II," on Nov. 20; and two screenings followed by discussions of the documentaries "War and Peace," on Dec. 10 and "The New Latinos" on Mar. 17, 2016.
All the events are scheduled for NAC room 2/202 and are free and open to the public. Click here to view the entire program.
About The City College of New York
Since 1847, The City College of New York has provided low-cost, high-quality education for New Yorkers in a wide variety of disciplines. More than 16,000 students pursue undergraduate and graduate degrees in: the College of Liberal Arts and Sciences; the Bernard and Anne Spitzer School of Architecture; the School of Education; the Grove School of Engineering; the Sophie Davis School of Biomedical Education, and the Colin Powell School for Civic and Global Leadership. U.S. News, Princeton Review and Forbes all rank City College among the best colleges and universities in the United States.
MEDIA CONTACT