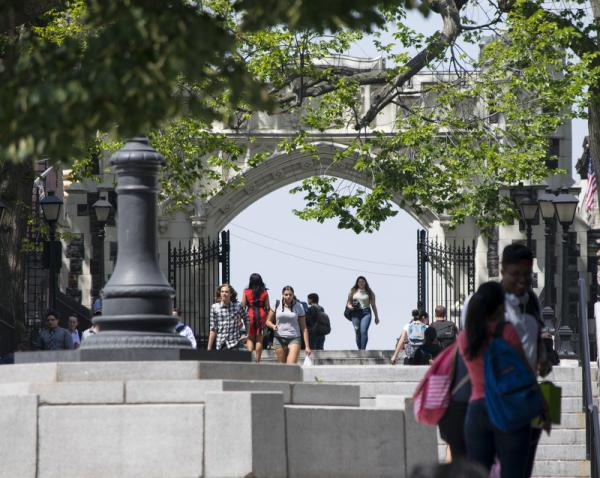 CCNY announces formation of The Foundation for City College, Inc., with an endowment of more than $290 million.
The City College of New York and its Foundation Board Leadership announce the formation of The Foundation for City College, Inc. It is the culmination of a two-year process to consolidate the 21st Century Foundation and the City College Fund. The Foundation begins operations with an endowment of more than $290 million.

Distinguished CCNY alumni Martin Cohen (Class of 1970) and Dave R. Wall, P.E., (Class of 1997) will serve as the combined foundation's inaugural board co-chairs.   

Following are the other esteemed board members:

•    Robert W. Adler '58;
•    Gabriella de Beer '56;
•    Edward Blank '57;
•    Howard V. Campbell '67;
•    Vivien R. Clark;
•    John Dionisio '71;
•    Jacob Feinstein P.E. '65;
•     Leonard Kleinrock '57;
•    Anna Ramos Marinaccio '62;
•     Maureen Mitchell '73;
•     Howard Lee Morgan '65;
•     Linda Powell;
•     Allen J. Rothman '68;
•     Frank Sciame '74;
•     Emanuel James Stergiou '71;
•     Sy Sternberg '65;
•     Lev Sviridov '05;
•     Kim Wales;
•     Robert B. Welner '71;
•     Josh Weston '50;
•    Richard von Zerneck '66 '68; and
•    Vince Boudreau, President, CCNY.

The new foundation's mission at the 172-year-old institution is to enhance access to educational and research excellence, particularly to students who might not otherwise attend a senior college due to the financial costs.

"Private gifts have the power to advance higher education, which can transform lives and communities," said board co-chair Martin Cohen. "The Board intends to continue in our work to enrich the City College experience for students, faculty and staff, and to work in collaboration with President Boudreau to raise significant financial support from private sources."

Dave R. Wall, P.E., the foundation's other co-chair, said it would support a variety of programs at City College. "This includes named professorships, advanced research operations, innovative programs leading to increased student success and campus-wide wellness opportunities. We see education and workforce development initiatives as key areas in which the Board can have a direct impact," he added.

Hailing the new entity, President Boudreau said: "We serve a historic college, enacting a vital mission. The combined energies and commitments of our two precursor foundations, each devoted to that mission, positions our new foundation to play an unprecedented and central role in the design of a new and brighter future for CCNY. I'm immensely grateful to everyone who brought us to this point, and entirely optimistic about our future."

Dee Dee Mozeleski, who leads CCNY's Office of Institutional Advancement and Communications and is Executive Director of the foundation said: "I am grateful to work with this Board and President Boudreau on behalf of City College.The legacy we have inherited places us in a unique position to advance education and research initiatives that will impact communities around the world."

About The City College of New York    
Since 1847, The City College of New York has provided a high quality and affordable education to generations of New Yorkers in a wide variety of disciplines. CCNY embraces its role at the forefront of social change. It is ranked #1 by the Harvard-based Opportunity Insights out of 369 selective public colleges in the United States on the overall mobility index. This measure reflects both access and outcomes, representing the likelihood that a student at CCNY can move up two or more income quintiles In addition, the Center for World University Rankings places CCNY in the top 1.2% of universities worldwide in terms of academic excellence. More than 16,000 students pursue undergraduate and graduate degrees in eight professional schools and divisions, driven by significant funded research, creativity and scholarship. CCNY is as diverse, dynamic and visionary as New York City itself. View CCNY Media Kit.