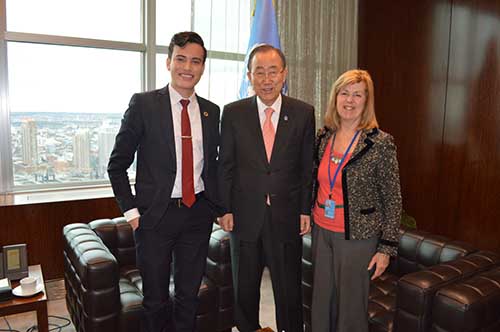 As the eighth Secretary-General of the United Nations, Ban Ki-moon oversaw major reforms on peacekeeping, pushed for action on global warming and tackled the Darfur conflict. Soon scholars, students and policy-makers studying his legacy will have access to his official papers on these and other actions, thanks to The City College of New York's Colin Powell School for Civic and Global Leadership.
Jean Krasno, lecturer in the Colin Powell School, leads the project with colleague Jacques Fomerand, a former UN official, to organize, select and catalogue the collected papers of Ban. This will culminate in a free, accessible online resource.
It will be the first time significant documents from a UN Secreary-General will be placed on the Internet in digital format, said Krasno. 
"These papers make an important contribution to the humanities by preserving the institutional memory of this global organization whose goal since its creation has been to seek international peace and security," said Krasno. "By making these important papers digitally accessible worldwide, the project will illustrate how international policy is formed, disseminated, and implemented."
With the addition of the Ban papers, City College will have the distinction of hosting papers of the last two UN chiefs.  Krasno previously headed the Colin Powell School project to arrange the official papers of Ban's predecessor, Kofi Annan.  The Annan documents are currently being digitized after initially being published in a five-volume set.
About The City College of New York
Since 1847, The City College of New York has provided low-cost, high-quality education for New Yorkers in a wide variety of disciplines. More than 15,000 students pursue undergraduate and graduate degrees in eight professional schools and divisions. View CCNY Media Kit .