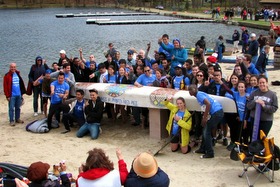 Headed to National Championship June 19 – 21 in Pittsburgh
The Grove School of Engineering's Concrete Canoe Club took first place in the Metropolitan Conference concrete canoe competition, with their canoe "Goethals," and will go on to compete for the national championship June 19 – 21 in Pittsburgh, PA. The finals of the regional event, consisting of five races, were held April 27 on Cook's Pond in Denville, N.J.
The concrete canoe competition "challenges students to apply their academic training to real life problems and it teaches students how to be leaders, to communicate and get things done," said club president Jorge Yepez, a senior civil engineering major. The competition, which dates to the 1970s, requires students "find a balance between a material that is strong in one area but weak in another."
The canoe is made of three layers of concrete and two layers of reinforcement. The team performed much testing before construction to design concrete mixes that were lightweight, but would not compromise the canoe's overall strength. Through trial and error, the team successfully found the right balance, allowing them to successfully apply this material in such an untraditional way.
In finishing first in the overall competition, City College bested six other schools. In addition to the races, students are judged on their technical report, oral presentation and canoe aesthetics. The CCNY team also took first place for the technical report and the 400-meter co-ed race, for which they set a course record. In addition, the team finished second in the 200 meter men's and women's sprints and third in the 600 meter men's and women's endurance races.
At the nationals, the City College team will be up against 23 other schools from across the United States, Canada and Puerto Rico. The team is excited to represent CCNY, as well as all of CUNY and the entire metropolitan region.
About The City College of New York
Since 1847, The City College of New York has provided low-cost, high-quality education for New Yorkers in a wide variety of disciplines. More than 16,000 students pursue undergraduate and graduate degrees in: the College of Liberal Arts and Sciences; the Bernard and Anne Spitzer School of Architecture; the School of Education; the Grove School of Engineering; the Sophie Davis School of Biomedical Education, and the Colin Powell School for Civic and Global Leadership. U.S. News, Princeton Review and Forbes all rank City College among the best colleges and universities in the United States.
About The Grove School of Engineering at CCNY
The Grove School of Engineering at The City College of New York is the only public engineering school within New York City. It offers Bachelors, Masters and Ph.D. degrees in seven fields: biomedical, chemical, civil, computer, electrical, and mechanical engineering and computer science. The School is recognized nationally for the excellence of its instructional and research programs and ranks among the most diverse engineering schools in the country.