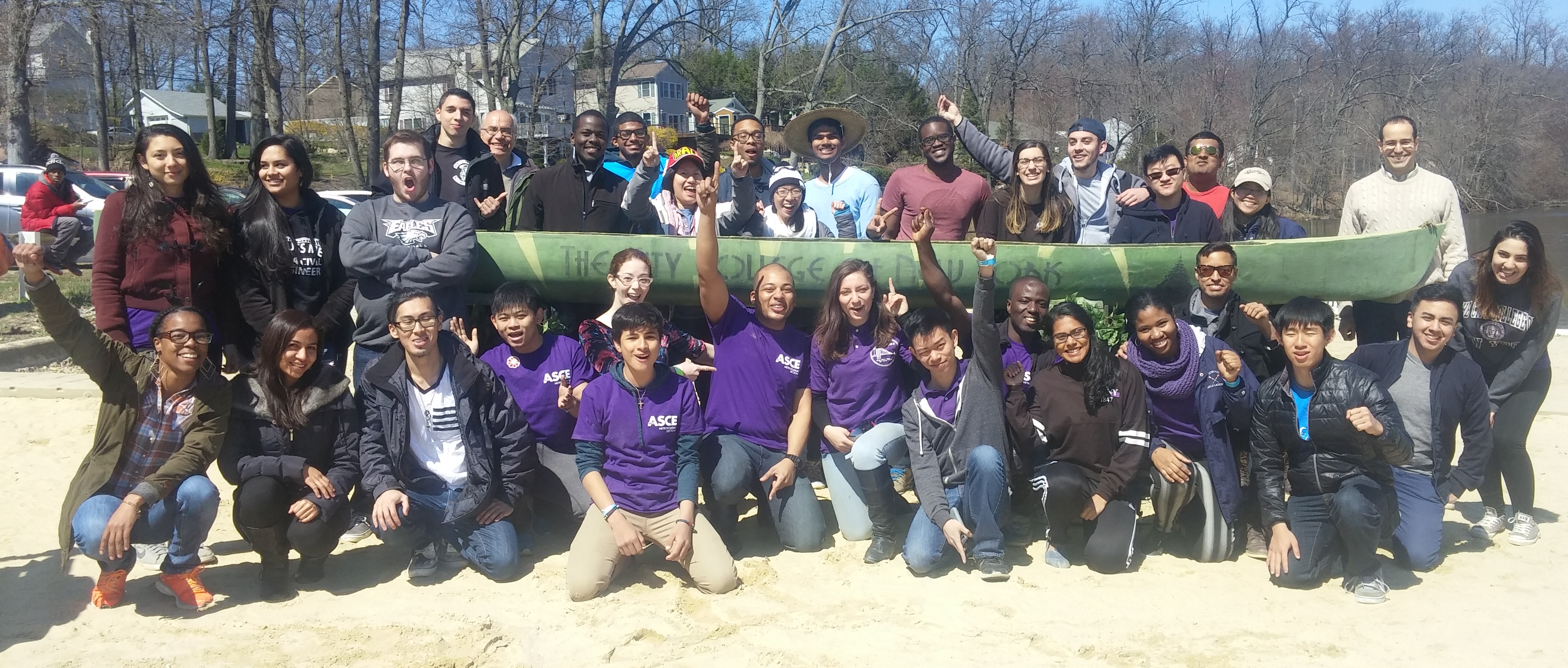 Members of CCNY's concrete canoe club with "The Concrete Jungle" at Cook's Pond in New Jersey.
The latest in a long line of physics defying, prize-winning concrete canoes out of The City College of New York's Grove School of Engineering placed second overall in the Metropolitan Conference competition at Cook's Pond in Denville, N.J.
There were eight other participants including student teams from Fairleigh Dickinson University, Rutgers, New York University, Stony Brook and the New Jersey Institute of Technology.
Christened "The Concrete Jungle," the City College canoe outscored entries from all the other institutions, with the exception of NYU, in three categories.  These were: the final product, oral presentation and the design.
A fourth category, entailing races among the canoes, was cancelled due to weather conditions at Cook's Pond, said Fidan Mamedova, president of the CCNY concrete canoe club.
Mamedova, a junior majoring in civil engineering like the other club members, said the cancellation of the races was detrimental to CCNY which has a strong and competitive concrete canoe paddling team.
 Winners last year, CCNY has an outstanding record in the regionals. It has never placed below third in the competition, whose winner advances to the national finals, and has since 2013 taken either first or second position consistently.
The concrete canoe club has 25 active members.  In addition to Mamedova, other student executives include:
Medwin Chiu (vice president);
Linette Prasad (secretary);
Olguine Alcide (treasurer);
Marcin Suwala (project manager).
About The City College of New York
Since 1847, The City College of New York has provided low-cost, high-quality education for New Yorkers in a wide variety of disciplines. More than 16,000 students pursue undergraduate and graduate degrees in: the College of Liberal Arts and Sciences; the Bernard and Anne Spitzer School of Architecture; the School of Education; the Grove School of Engineering; the Sophie Davis School of Biomedical Education, and the Colin Powell School for Civic and Global Leadership. U.S. News, Princeton Review and Forbes all rank City College among the best colleges and universities in the United States.