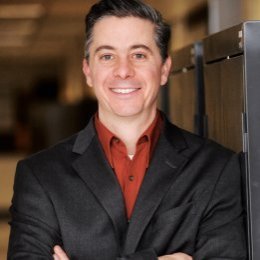 Participates in National Academy event for early-career faculty to promote innovative teaching approaches
Dr. Marco Castaldi, associate professor of chemical engineering in the Grove School of Engineering at The City College of New York, designs courses the same way he engineers a new piece of research equipment: assemble the fundamental parts, study how existing models operate, reimagine the models, then, do lots of hands-on building.
"Engineering is so much 'doing' that there has to be that hands-on experience," he said, recalling a quote from Confucius: "I hear, I forget. I see, I remember. I do, I understand."
The National Academy of Engineering (NAE) recognized this talent by inviting him to participate in the 2012 Frontiers of Engineering Education Symposium. This gathering, October 14 – 17 in Irvine, Calif., brought together 71 early-career engineering professors to share strategies and develop new ideas that combine research and teaching. Participants returned home with a charter to further advance their own institutions.
"It is absolutely critical that U.S. engineering educators learn how to become more effective in the classroom, utilizing technology and pedagogy in creative ways," said Larry Shuman, chair of the symposium's planning committee and dean and professor of industrial engineering at the University of Pittsburgh.
For his part, Professor Castaldi brought back ideas for combining virtual and live demonstrations and employing a technique called the "flipped" classroom, in which students preview a video lecture to prepare for technical discussions or demonstrations. He hopes to deploy these concepts in courses such as his new senior design class, which is a capstone for undergraduate engineering majors.
"If the United States has any hope of maintaining a competitive place in the world, the next generation of engineers needs to be much more engaged on multiple levels," he said.
Professor Castaldi just arrived at City College from Columbia University this fall. He is teaching the design course while setting up his new lab, which will focus on combustion and catalysis, with particular interest in the conversion of biomass waste to energy using carbon dioxide.
At Columbia University, three groups of undergraduates in his senior design course published papers on their projects. He also was awarded the 2006 Distinguished Faculty Teaching Award, achieved the Columbia University Presidential List of 100 Prestigious Faculty and was nominated for the Dreyfus Teacher-Scholar Award.
Professor Castaldi said he was attracted to the Grove School by its energetic growth, collaborative environment and the reputation of its students. He noted that whenever he had asked colleagues in academia or industry about City College engineering graduates, "one of first things out of their mouths was that they've got extremely strong students."
 
He has found the same so far. "They are aggressive. They are strong in the sense that they want to learn, and they are not shy about coming back and asking for what they need."
He credits his years in industry with helping to mold his approach. "In industry you don't sit at a desk while a supervisor lectures you about how something works," he said. "They say 'this is the problem,' and you have to figure out what you need to know."
"The ability to do this," he said, "is what separates those who become the real engineers from those who don't."