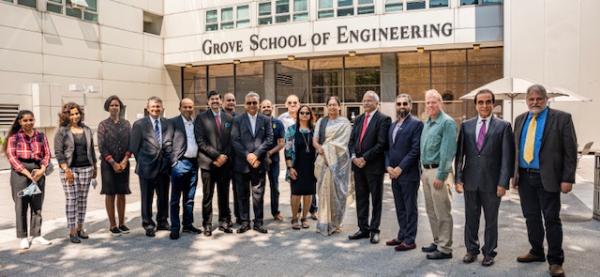 CUNY CREST officials and members of the Indian delegation outside CCNY's Grove School of Engineering where CUNY CREST is based.
The City College of New York-based CUNY Remote Sensing Earth System Institute (CUNY CREST) and Bronx Community College (BCC) are set for myriad collaborations with Indian academic institutions around STEM, remote sensing, climate change-related issues, sustainability, and related fields after signing a unique partnership.
City College President Vincent Boudreau and his BCC counterpart Thomas A. Isekenegbe inked an agreement establishing the India Initiative of Research and Education Collaborations of the CUNY CREST Institute (IICCCI).  New York City Mayor Eric Adams issued a Proclamation heralding the agreement.
IICCCI's mission will be to foster robust and inclusive cultural-social-academic synergism between CUNY and Indian academic institutions, government and private enterprise by including Indian, and Indo-Caribbean Diaspora in the United States.
 
IICCCI's primary focus will be India-related activities that will align with the CUNY CREST Institute's strategic mission. These include:
•    Research and application; 
•    Education and training; 
•    Social science and environmental justice;
•    Entrepreneurship and business development;
•    Community outreach and engagement; and
•    International partnership and global networking  
In addition, IICCCI sets the stage for CUNY CREST and BCC to partner with their Indian counterparts in tackling climate change and its devastating impact on the Indian subcontinent. This summer was particularly catastrophic with unprecedented heatwaves, monsoon rains and some of the worst floods in South-East Asia in more than a century.
"It's important to understand this as a global problem," said Shakila Merchant, Deputy Director, CUNY CREST Institute. "So, we have to come together as a global community to tackle this global problem." 
One of the overarching goals of IICCCI, she noted, is to train early career professionals to research further into climate change and its ramifications.
The Initiative's initial Indian educational partners include four institutions in Maharashtra State whose top officials were in New York for the signing ceremony. The officials and their institutions are:
Two other members of the visiting delegation, Aditya Abhyankar, Dean, Faculty of Technology Professor and Head, Dept. of Technology, SPPU, and Yachneet Pushkarna, CEO of the Govardhan Eco Village in Maharashtra, noted the perfect timing of IICCCI -- just as the Indian government's new education policy was making it easier for students and faculty to engage in multifacility and multidisciplinary collaborations.
"We are also doing lot of work in environment and sustainable impact, which is the need of the hour. And it will not only be siloed for people who are in impact and climate change -- it will be across the board," Pushkarna said. "It will give opportunity to many other people in different faculties to look at climate and sustainability in a wider way, to take out meaningful products on the ground, which can be more action-oriented rather than theory." 
As IICCCI takes off, Merchant, CUNY CREST Executive Director Reza Khanbilvardi and Senior Scientist Tarendra Lakhankar head to India this week to plan and firm additional collaborations with partners there. 
About the CUNY CREST Institute
The CUNY Remote Sensing Earth System Institute, headquartered at the City College of New York, was officially approved by CUNY Board of Trustees in June 2010. The goal of the Institute is to serve as a CUNY-wide Institute of Excellence in Advancement of Earth System Sciences and application of Remote Sensing Technology as well as other emerging technologies. The Institute serves as a major hub of outstanding interdisciplinary research across CUNY colleges. The institute is designed to be a collaborative environment from faculty and scientists from different CUNY campuses to be able to work together in a variety of topics related to earth system sciences. The institute's collaborative environment will enhance the advancement of science at CUNY and will create opportunity to attract external support. 
About the City College of New York
Since 1847, The City College of New York has provided a high-quality and affordable education to generations of New Yorkers in a wide variety of disciplines. CCNY embraces its position at the forefront of social change. It is ranked #1 by the Harvard-based Opportunity Insights out of 369 selective public colleges in the United States on the overall mobility index. This measure reflects both access and outcomes, representing the likelihood that a student at CCNY can move up two or more income quintiles. In addition, the Center for World University Rankings places CCNY in the top 1.8% of universities worldwide in terms of academic excellence. Labor analytics firm Emsi puts at $1.9 billion CCNY's annual economic impact on the regional economy (5 boroughs and 5 adjacent counties) and quantifies the "for dollar" return on investment to students, taxpayers and society. At City College, more than 16,000 students pursue undergraduate and graduate degrees in eight schools and divisions, driven by significant funded research, creativity and scholarship. CCNY is as diverse, dynamic and visionary as New York City itself. View CCNY Media Kit.