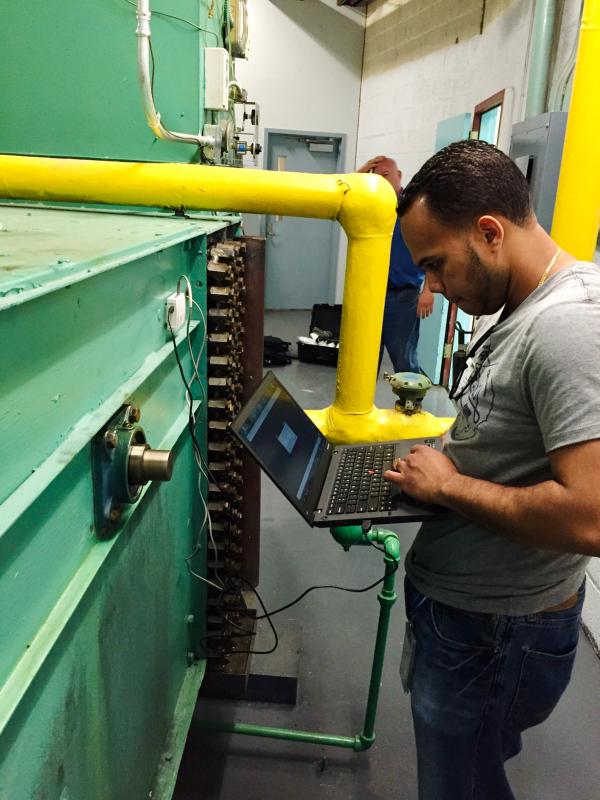 Felix Rodriguez, BPL technology specialist, installs an energy monitoring device in a CCNY facility.
The City College of New York-based CUNY Institute for Urban Systems Building Performance Lab (CUIS BPL) is the winner of a 2021 Energy to Lead Award from the New York State Energy Research and Development Authority (NYSERDA). The Energy to Lead Competition supports colleges and universities that strive to meet their financial, environmental, academic, and community goals through clean energy solutions. 
The $1.4 million award will aid the BPL in developing control based systematic processes for facilities staff and building operators to increase their ability to effectively manage and properly commission major energy consuming systems on campus. 

CUIS BPL was founded in 2006 by energy engineer Michael Bobker, who currently serves as the lab's executive director. 

"Our lab was created with a grant from NYSERDA. The Energy to Lead award will allow us to continue to expose City College engineering students to hands-on work in improving energy performance in buildings. We have a steady stream of students who end up in careers in environmental engineering because of what we can do at the Building Performance Lab," said Bobker. 

The Energy to Lead award funded a pilot program that formally began in February 2021. Its target is to reduce energy consumption on the CCNY campus by 15-20%. 
CCNY President Vincent Boudreau said: "This project is designed to educate energy users on data-based efficiencies. Energy efficiency is among the highest priorities we have for developing a sustainable future and City College is excited to share its expertise in this field."
Buildings are one of the largest sources of greenhouse gas em issions in New York State, and CUNY is on the forefront of advancing the state's goals to realize a carbon neutral building stock, inspire the next generation of climate leaders, and provide robust opportunities for student engagement. 
Combined, the projects recognized by NYSERDA are expected to save 4,604 metric tons of carbon annually, the equivalent to removing almost 4,000 cars from the road each year.
CUNY joins New York Medical College, Syracuse University, and Vassar College in this honor.
About the City College of New York
Since 1847, The City College of New York has provided a high-quality and affordable education to generations of New Yorkers in a wide variety of disciplines. CCNY embraces its position at the forefront of social change. It is ranked #1 by the Harvard-based Opportunity Insights out of 369 selective public colleges in the United States on the overall mobility index. This measure reflects both access and outcomes, representing the likelihood that a student at CCNY can move up two or more income quintiles. In addition, the Center for World University Rankings places CCNY in the top 1.8% of universities worldwide in terms of academic excellence. Labor analytics firm Emsi puts at $1.9 billion CCNY's annual economic impact on the regional economy (5 boroughs and 5 adjacent counties) and quantifies the "for dollar" return on investment to students, taxpayers and society. At City College, more than 16,000 students pursue undergraduate and graduate degrees in eight schools and divisions, driven by significant funded research, creativity and scholarship. CCNY is as diverse, dynamic and visionary as New York City itself. View CCNY Media Kit.