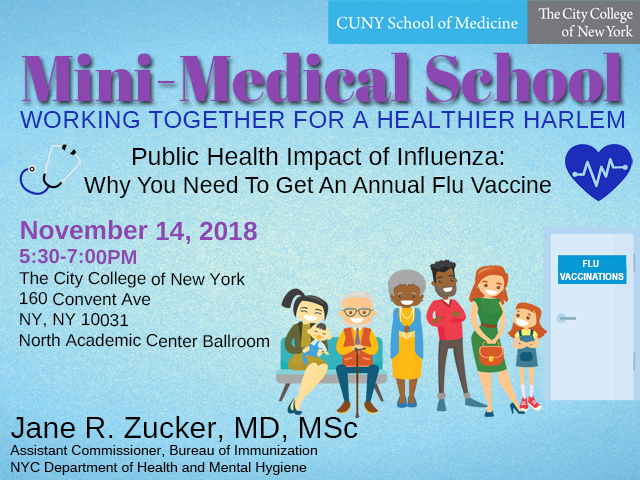 Mini-Medical School to discuss flu prevention.
The CUNY School of Medicine (CSOM) will host its tenth Mini-Medical School on Wednesday, Nov. 14, to discuss how to stay healthy during the flu season.
This session, entitled ""Public Health Impact of Influenza: Why You Need To Get an Annual Flu Vaccine" and presented by Dr. Jane R. Zucker, Assistant Commissioner of the Bureau of Immunization at the NYC Department of Health and Mental Hygiene, will explore the importance of getting an annual flu shot and other ways to prevent getting the flu.
The talk, which is free and open to the public, will take place on Wednesday, Nov. 14, 5:30 p.m.-7:00 p.m., at the CCNY Campus North Academic Center (NAC) Ballroom. Click to RSVP.
Mini-Medical School provides an opportunity to explore various health topics, empowering members of the Harlem community with the knowledge to actively take part in their healthcare. With no prior educational requirements, information is presented in an engaging, easy-to-understand style by health professionals and experts in related fields. 
Save the date for the next CSOM Mini-Medical School: "Opioids Everywhere: A Practical Guide to Understanding & Combatting the Current Crisis" on Dec. 12th. The presentation will be led by Howard Greller, MD, St. Barnabas Health Systems.
About The City College of New York
Since 1847, The City College of New York has provided a high quality and affordable education to generations of New Yorkers in a wide variety of disciplines. CCNY embraces its role at the forefront of social change. It is ranked #1 by the Harvard-based Opportunity Insights out of 369 selective public colleges in the United States on the overall mobility index. This measure reflects both access and outcomes, representing the likelihood that a student at CCNY can move up two or more income quintiles. In addition, the Center for World University Rankings places CCNY in the top 1.2% of universities worldwide in terms of academic excellence. More than 16,000 students pursue undergraduate and graduate degrees in eight professional schools and divisions, driven by significant funded research, creativity and scholarship. CCNY is as diverse, dynamic and visionary as New York City itself.  View CCNY Media Kit.