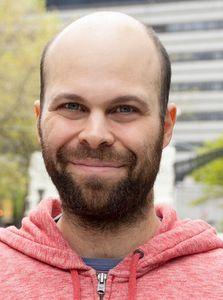 To curb the advance of invasive raccoons on the island nation, City College of New York doctoral student Jamie Kass will work with Japanese scientists to model and track their spread. Kass is the recipient of a National Science Foundation grant to conduct research on this management issue through the East Asia Pacific Studies Institutes.
He will be based at Yokohama National University this summer in the research lab of Dr. Fumito Koike, an expert in invasive species and ecological modeling.
A member of City College biology professor Robert Anderson's biogeography lab, Kass studies how interactions between species affect their distributions, and specializes in ecological modeling and mapping.
He will collect data on raccoon occurrences from around the country, then use this knowledge to build models that indicate the environmental factors associated with the species, as well as predict the direction of their future spread.
"It's a huge management problem there, as raccoons are on the top of the food chain in many places, and are thought to prey on birds, freshwater mollusks, and endangered salamanders," said Kass. Raccoons arrived via the pet trade in the 1970's, and are expanding in both urban and natural areas.
Further, raccoons are thought to compete with the native raccoon dog. Kass will examine interactions between the two species using camera traps placed in areas selected with his model.
With the guidance of his Japanese collaborators, Kass will help wildlife managers in Japan decide where to direct their efforts to remove this threat to their natural heritage.
About The City College of New York
Since 1847, The City College of New York has provided low-cost, high-quality education for New Yorkers in a wide variety of disciplines. More than 15,000 students pursue undergraduate and graduate degrees in the College of Liberal Arts and Science; Bernard and Anne Spitzer School of Architecture; School of Education; Grove School of Engineering; Sophie Davis Biomedical Education/CUNY School of Medicine; and the Colin Powell School for Civic and Global Leadership. U.S. News, Princeton Review and Forbes all rank City College among the best colleges and universities in the United States.