Was Killing of Trujillo Good for Dominican Republic's Image?
Was Killing of Trujillo Good for Dominican Republic's Image?
Dr. Ramona Hernández, City College of New York professor of sociology and director, CUNY Dominican Studies Institute.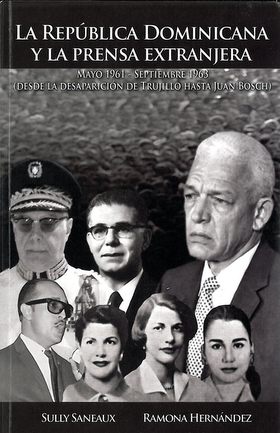 "La Republica Dominican y la Prensa Extranjero: Mayo 1961 – Septiembre 1963"
Book co-authored by CCNY sociologist Ramona Hernández examines how foreign press portrayed dictator's assassination, coup two years later
In the early 1960s, the Dominican Republic was rocked by two critical events: the assassination of longtime dictator Rafael Trujillo in May 1961 and the September 1963 coup d'etat that removed President Juan Bosch from power. City College of New York sociologist Dr. Ramona Hernández is the co-author of a new book, published in Spanish in the Dominican Republic, which examines how the foreign press portrayed these events and the country during the 27 months between them.
The book, "La Republica Dominican y la Prensa Extranjero: Mayo 1961 – Septiembre 1963," offers an analysis of more than 1,800 articles that ran in 31 print media outlets. Dominican journalist Sully Saneaux co-wrote the book, which was published earlier this year by the Biblioteca Nacional Pedro Henríquez Ureña, which is the Dominican Republic's equivalent of the U.S. Library of Congress.
"Reporters in the Dominican Republic wanted to know what it was like for an academic like me to work with a journalist," said Professor Hernández, who is also director of the CUNY Dominican Studies Institute. "It was a great learning and enriching experience because we had the opportunity to combine methodologies and different ways of looking and understanding what people say and do."
The articles came from newspapers in China, Colombia, France, Italy, Mexico, Portugal, Puerto Rico, the Soviet Union and the United States. Among the U.S. newspapers whose articles were included are "The New York Times," "Chicago Tribune," "Los Angeles Times," "Washington Post," "New York World-Telegram" and "New York Daily News."
Six City College students assisted with the project. Alina Levchuk and Ye Zhou worked with newspapers from the Soviet Union and China, respectively, and Ana King-Garcia reviewed articles published in Spanish.
Newspapers had been reporting that Generalissimo Trujillo, who had ruled the country for 30 years, was undergoing a period of political distress at the time of his assassination. "It was widely recognized that Trujillo was losing support and the commonly held view in the United States was that it was time for him to go," Professor Hernández said.
The U.S. press was also unfavorable of President Bosch, a Dominican intellectual whose writings were considered Marxist. Elected president in 1962, he served only seven months in office before being removed in the coup. Newspapers portrayed him as a leftist and criticized land reform and foreign ownership legislation passed while he was president. "Bosch's perceived nationalist actions created distrust among capitalists in the United States," added Professor Hernández.
On the Internet
About The City College of New York
Since 1847, The City College of New York has provided low-cost, high-quality education for New Yorkers in a wide variety of disciplines. More than 16,000 students pursue undergraduate and graduate degrees in: the College of Liberal Arts and Sciences; the Bernard and Anne Spitzer School of Architecture; the School of Education; the Grove School of Engineering; the Sophie Davis School of Biomedical Education, and the Colin L. Powell School for Civic and Global Leadership.  
Set on a striking, 35-acre hilltop campus in upper Manhattan, CCNY has produced more Nobel laureates than any other public institution in the United States. The College has been touted as one of America's Top Colleges by Forbes, one of the Best Colleges in the United States as well as one of the Best Value Colleges by the Princeton Review, and ranks among U.S. News' top regional universities.
« BACK TO NEWS