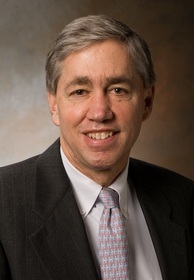 Discoverer of link between genes and hypertension to present annual Louis Levine-Gabriella de Beer Lecture in Genetics
Yale University biochemist Richard P. Lifton, who discovered the link between genetics and high blood pressure, will deliver the annual Louis Levine-Gabriella de Beer Lecture in Genetics at The City College of New York. His talk on "Genome Approaches to Understand Hypertension and other Common Diseases" will begin at 5 p.m. Thursday, March 27, in The Great Hall. It is free and open to the public.
Dr. Lifton is chair of the Department of Genetics and Sterling Professor of Genetics and Internal Medicine at Yale University School of Medicine. He also serves as executive director of the Yale Center for Genome Analysis, and he has been an investigator with the Howard Hughes Medical Institute since 1994.
His research has focused on the use of genetic approaches to identify the genes and pathways that contribute to common cardiovascular, renal and bone diseases in humans. His work on hypertension (high blood pressure), in particular, has provided the scientific basis for global efforts to limit dietary salt intake to reduce morbidity and mortality. 
In 2008, Dr. Lifton's discovery of the genes that cause many forms of high and low blood pressure in humans earned him the Wiley Prize in Biomedical Sciences. He was one of six recipients of the 2014 Breakthrough Prize in Life Sciences, which awards $3 million to each honoree. In addition, he is a member of the National Academy of Science and the Institute of Medicine and a fellow of the American Association for the Advancement of Science.
Dr. Lifton earned his MD and PhD from Stanford University in 1982 and 1986, respectively.
The Louis Levine-Gabriella de Beer Lecture in Genetics was established by Gabriella de Beer in memory of her husband, Professor Louis Levine, a geneticist who taught at City College in the biology department and Sophie Davis School of Biomedical Education. The series aims to perpetuate Professor Levine's lifelong interest in the ever-expanding field of genetics. 
The lecture is presented by City College President Lisa S. Coico and The City College Fund. To reserve a seat call The City College Fund at 212-650-7192, or email cly@citycollegefund.org.
About The City College of New York
Since 1847, The City College of New York has provided low-cost, high-quality education for New Yorkers in a wide variety of disciplines. More than 16,000 students pursue undergraduate and graduate degrees in: the College of Liberal Arts and Sciences; the Bernard and Anne Spitzer School of Architecture; the School of Education; the Grove School of Engineering; the Sophie Davis School of Biomedical Education, and the Colin Powell School for Civic and Global Leadership. U.S. News, Princeton Review and Forbes all rank City College among the best colleges and universities in the United States.