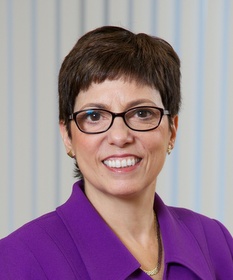 City College of New York President Lisa S. Coico will receive the first "Jazz and Community Leadership Award" from theNational Jazz Museum in Harlem (NJMH) at a benefit concert Monday, June 9, at The Kaye Playhouse at Hunter College in Manhattan. 
The event starts 7:30 p.m. and includes performances by three-time Grammy Award winner Dee Dee Bridgewater and NJMH Artistic Director-at-Large Jonathan Batiste.
President Coico and The City College will be the first recipients of NJMH's "Jazz and Community Leadership Award." 
"The Museum proudly acknowledges the extraordinary leadership exemplified by President Coico and City College in advancing the appreciation and acceptance of jazz as a major American art form with worldwide significance, and for their enduring contributions to Harlem's quality of life," said Jasna Radonjic, NJMH's managing director.
The College's keen commitment to music and the performing arts dates back generations. City College's illustrious music alumni include lyricists Ira Gershwin and Yip Harburg and blues historian Marv Goldberg. 
Currently, it boasts a thriving music program with outstanding faculty such as jazz saxophonist Steve Wilson and serves as a beacon to budding musicians from the community and beyond.
Renowned jazz pianist McCoy Tyner will also be honored at the benefit. He'll receive NJMH's first Legends of Jazz Award. 
For more information on the benefit concert, click here.
About The City College of New York
Since 1847, The City College of New York has provided low-cost, high-quality education for New Yorkers in a wide variety of disciplines. More than 16,000 students pursue undergraduate and graduate degrees in: the College of Liberal Arts and Sciences; the Bernard and Anne Spitzer School of Architecture; the School of Education; the Grove School of Engineering; the Sophie Davis School of Biomedical Education, and the Colin Powell School for Civic and Global Leadership. U.S. News, Princeton Review and Forbes all rank City College among the best colleges and universities in the United States. 
 
About the National Jazz Museum in Harlem
The NJMH is a Smithsonian affiliate with a mission to preserve, promote, and present jazz by inspiring knowledge, appreciation, and the celebration of jazz locally, nationally, and internationally. Through its programs and exhibits, the museum explores jazz as a musical genre and a cultural phenomenon that has profoundly influenced many aspects of our lives. Understanding the history and evolution of jazz means gaining a deeper understanding of the past and present of American society, democracy and the American people.