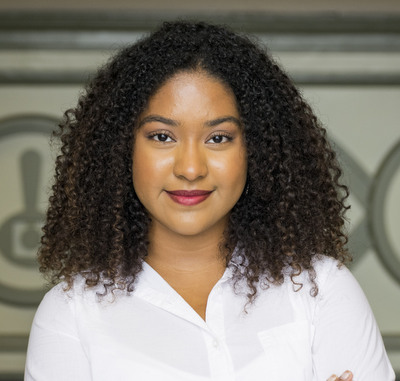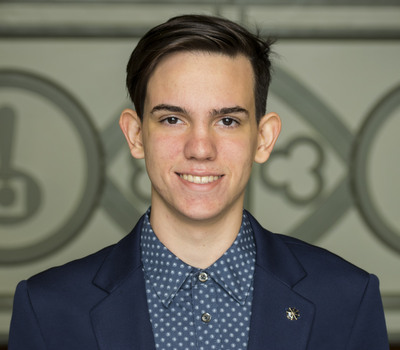 Melissa Olivar and Angel Herrera, both summer graduates from the High School for Media and Communications in Washington Heights with immigrant roots, are the latest President's Community Scholars at The City College of New York.
They are the eighth cohort of community scholars since the awards – formally dubbed The City College of New York President's Community Scholarship program -- began in 2010. It was introduced by City College to strengthen the links between the institution and the surrounding community. Awards are based strictly on academic merit and Scholars are required to perform community service and maintain good academic standing as a condition for renewal up to five years. The President's Community Scholars program is sponsored by the 21st Century Foundation of The City College of New York. To date, 65 students have received scholarships.
Olivar was born in Queens of Mexican immigrant parents.  She was Class of 2017 Valedictorian at the High School for Media & Communications and the recipient of a humanitarian award for her volunteerism.
"I love to help people, which is why I want to be a doctor," said the Astoria resident, who plans to major in chemistry.
Olivar applauded CCNY for the scholarship and said without it entering college would have been a big financial burden for her immigrant family. Her older sister is an undergraduate at York College.
Herrera moved to New York from his native Dominican Republic at age 12. He was on the Principal's Honor Roll, the swim team and was school treasurer in high school. He also volunteered for the Navy ROTC.
He said the CCNY award was a huge help. "I live by myself and need help financially because I'm working and studying," he remarked.
Herrera is undecided on his major but is leaning toward an engineering field.
About The City College of New York
Since 1847, The City College of New York has provided low-cost, high-quality education for New Yorkers in a wide variety of disciplines. Today more than 16,000 students pursue undergraduate and graduate degrees in eight professional schools and divisions, driven by significant funded research, creativity and scholarship.  Now celebrating its 170th anniversary, CCNY is as diverse, dynamic and visionary as New York City itself.  View CCNY Media Kit.