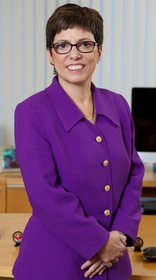 First 'Jazz and Community Leadership Award,' to be given June 9, cites 'outstanding service to Harlem community and support for jazz'
The National Jazz Museum in Harlem (NJMH) will present its first "Jazz and Community Leadership Award" to The City College of New York and CCNY President Lisa S. Coico June 9 at The Kaye Playhouse at Hunter College in Manhattan. 
The award recognizes President Coico and City College's "unique outstanding service to Harlem and its communities, as well as for the support for jazz and musicians, both of which have been expanded and strengthened under President Coico's tenure," said Jasna Radonjic, the museum's managing director. 
The museum introduced the "Jazz and Community Leadership Award" this year to honor individuals or organizations "for their extraordinary leadership in advancing the appreciation, and acceptance of jazz as a major American art form with worldwide significance, and for enduring contributions to Harlem's community quality of life."
The NJMH cited City College for: 
Its multi-faceted involvement with jazz and music as reflected in its music curriculum and programs;
 
Enabling numerous Harlem-connected musicians, many with little or no means, to study in its jazz program because of its uniquely low tuition and high quality of instruction;
 
 Its jazz concerts at Aaron Davis Hall on campus, which is Harlem's premiere performing arts center, where many jazz greats have performed;
 
The range of its music alumni that includes famed lyricists Ira Gershwin and Yip Harburg and blues historian Marv Goldberg.
President Coico has been a member of NJMH's Board of Trustees since 2011 and, in addition, serves on the Board's development committee.
"It has been my great pleasure as managing director to work with President Coico in her role as a trustee," said Ms. Radonjic. "Her fresh and innovative ideas, can-do-attitude, extraordinary connections in the community and love of jazz and Harlem make her contributions to the museum invaluable."
She lauded President Coico's instrumental role on the development committee in revitalizing NJMH's fundraising efforts, which are crucial for the museum's thriving future. "I have no doubt that, with her help, we will achieve our goal of building a permanent home for jazz in Harlem in the very near future. Our Board of Trustees could not have found a better recipient for our first "Jazz and Community Leadership Award," added Ms. Radonjic.
Also that night, pianist, composer and bandleader McCoy Tyner, will receive NMJH's first annual "Legends of Jazz Award" for outstanding contribution to the development of jazz. 
The featured performer at the event will be Tony Award winner and three-time Grammy Award winner singer/actress Dee Dee Bridgewater, a two-time Grammy winner and winner of the 1975 Tony for "best featured actress in a musical" for "The Wiz."
For reservations, call The National Jazz Museum in Harlem at (212) 348-8300 ext. 100.
 
About The City College of New York 
Since 1847, The City College of New York has provided low-cost, high-quality education for New Yorkers in a wide variety of disciplines. More than 16,000 students pursue undergraduate and graduate degrees in: the College of Liberal Arts and Sciences; the Bernard and Anne Spitzer School of Architecture; the School of Education; the Grove School of Engineering; the Sophie Davis School of Biomedical Education, and the Colin Powell School for Civic and Global Leadership. U.S. News, Princeton Review and Forbes all rank City College among the best colleges and universities in the United States.
 
About the National Jazz Museum in Harlem
The NJMH is a Smithsonian affiliate with a mission to preserve, promote, and present jazz by inspiring knowledge, appreciation, and the celebration of jazz locally, nationally, and internationally. Through its programs and exhibits, the museum explores jazz as a musical genre and a cultural phenomenon that has profoundly influenced many aspects of our lives. Understanding the history and evolution of jazz means gaining a deeper understanding of the past and present of American society, democracy and the American people.  
 
The NJMH has a visitors' center in East Harlem that has become the hub for live performances, exhibitions and educational workshops. It also offers an exclusive access to the recently discovered Savory Collection - more than 100 hours of live recordings of jazz legends, such as Count Basie, Louis Armstrong, Billie Holiday, Duke Ellington and many more, made between 1935 and 1941 in New York City. Visit NJMH for more information.