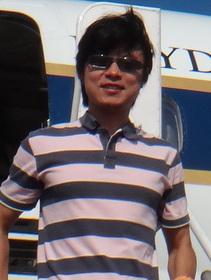 CCNY Professor Z. Johnny Luo's research team has received the NASA Group Achievement Award, one of the agency's top honors.
A NASA mission team led by 12 scientists, including Dr. Z. Johnny Luo, associate professor in The City College of New York Department of Earth and Atmospheric Sciences and NOAA-CREST Institute, has received the NASA Group Achievement Award.

The team was cited by NASA Administrator Charles Bolden for "outstanding accomplishments in Studies of Emissions and Atmospheric Composition, Clouds and Climate Coupling by Regional Surveys (SEAC4RS)." 
 
According to the award letter, the honor is "one of the most prestigious awards a group can receive and is presented to selected groups who have distinguished themselves by making outstanding contributions to the NASA mission."

Luo has served as one of 12 lead scientists on the NASAairborne mission SEAC4RS to study how convective clouds help process and transport air pollutants, including those from wildfires. The mission began in August 2013 and lasted until late September 2013 with the team crisscrossing the southwestern United States in two aircraft. On September 13, 2013, Luo led a flight into Hurricane Ingrid over the Gulf of Mexico. 

About The City College of New York
Since 1847, The City College of New York has provided low-cost, high-quality education for New Yorkers in a wide variety of disciplines. More than 16,000 students pursue undergraduate and graduate degrees in: the College of Liberal Arts and Sciences; the Bernard and Anne Spitzer School of Architecture; the School of Education; the Grove School of Engineering; the Sophie Davis School of Biomedical Education, and the Colin Powell School for Civic and Global Leadership. U.S. News, Princeton Review and Forbes all rank City College among the best colleges and universities in the United States.
MEDIA CONTACT