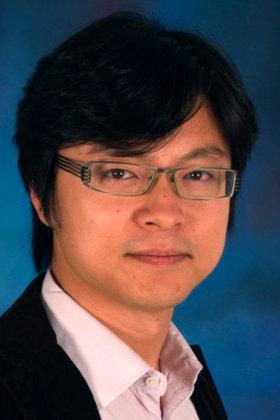 Dr. Z. Johnny Luo, associate professor in the City College of New York Department of Earth and Atmospheric Sciences, is the youngest team leader on the NASA SEAC4RS mission.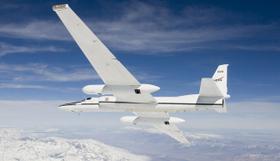 A NASA ER-2 high altitude reconnaissance aircraft is one of two principal airplanes used on the mission.
Johnny Luo is youngest of 12 science leaders for project studying how convective clouds process and transport air pollutants
Dr. Z. Johnny Luo, an associate professor in the Department of Earth and Atmospheric Sciences and NOAA CREST Institute at The City College of New York, is one of 12 lead scientists on a NASA airborne mission to study how convective clouds help process and transport air pollutants, including those from wildfires. The mission, involving two aircraft that are crisscrossing the southwestern United States, began August 10. A NASA media day event for the mission will be held Wednesday, August 21 in Houston.

More than 200 scientists plus ground support personnel are involved in the mission. As a team leader, Professor Luo is charged with implementing the mission's scientific goals. At 39, he is the youngest team leader chosen by NASA through an open competition.

"We scientists still don't fully understand how convective clouds transport pollutants from near the Earth's surface to the atmosphere," he said. "They are critical because without a clear understanding of these transport processes we cannot effectively predict how air quality will change in a changing climate.

"We know we are headed toward a warmer climate, but we also want to know whether air quality will deteriorate or improve and how clouds will play a role in changing air quality. It is a difficult question to answer."

The two principal aircraft assigned to the mission are a Lockheed ER-2 high-altitude reconnaissance plane and a converted Douglas DC-8 passenger airliner. Between them, the two airplanes have been outfitted with more than 46 instruments that will collect data on cloud microphysics, aerosols, trace gas pollutants and atmospheric states.

As they cover their territory, the two aircraft are flying beneath satellites that are gathering similar data from a much higher altitude. However, the aircraft are collecting data with much finer resolution near or inside the clouds. "The satellites are our 'MRI' doing remote sensing from space while planes are our 'surgical knife' collecting 'biopsy samples' on spot," Professor Luo explained. "We need both of them to make an accurate 'diagnosis' of the problem."

After the flights have ended, it may take several years before the mission yields conclusive findings. NASA has funded Professor Luo and the other team members for three years to analyze data and test multiple theories and hypotheses. However, he said he expects to have preliminary results much sooner than that.

NASA hopes the mission will lead to a fuller understanding of the fundamental mechanisms that are responsible for cloud-pollutant interaction. Then, the new knowledge could be incorporated into forecasting models that will be used to predict how clouds and pollutants will change in a changing climate, he explained.

The research will also provide Professor Luo's students with new – and more accessible – information. In the past, he has conducted research with satellite remote sensing data. However, the information could be hard to interpret and difficult for students to digest, he noted.

"Now, through flying into the clouds and collecting real samples, I can better involve students with vivid examples anyone can easily understand," he said. "Then, by connecting the 'biopsy' with the 'MRI,' students will be better able to understand remote sensing."

On the Internet
About The City College of New York
Since 1847, The City College of New York has provided low-cost, high-quality education for New Yorkers in a wide variety of disciplines. More than 16,000 students pursue undergraduate and graduate degrees in: the College of Liberal Arts and Sciences; the Bernard and Anne Spitzer School of Architecture; the School of Education; the Grove School of Engineering, the Sophie Davis School of Biomedical Education, and the Colin L. Powell School for Civic and Global Leadership.  

Set on a striking, 35-acre hilltop campus in upper Manhattan, CCNY has produced more Nobel laureates than any other public institution in the United States. The College has been touted as one of America's Top Colleges by Forbes, one of the Best Colleges in the United States as well as one of the Best Value Colleges by the Princeton Review, and ranks among U.S. News' top regional universities.