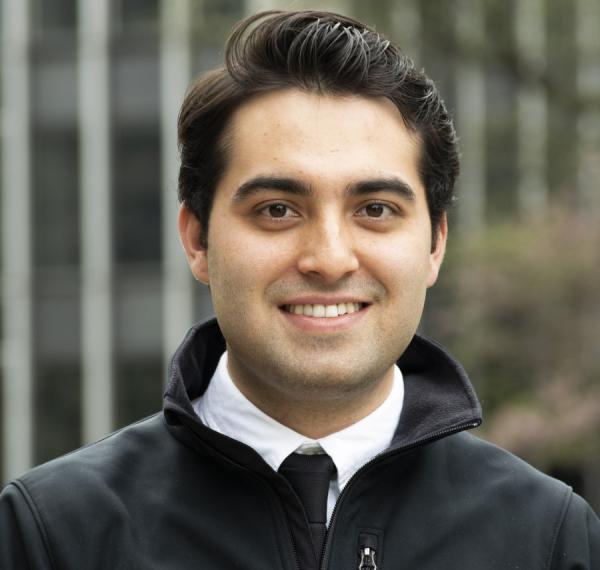 Mathiu Perez Rodriguez, a biochemistry major in CCNY's Honors Program, is a 2019 Barry Goldwater Scholar.
Mathiu Perez Rodriguez, a junior majoring in biochemistry in the Honors Program at The City College of New York, has been awarded a 2019 Barry Goldwater Scholarship. 
The federally funded scholarship is America's premiere award for undergraduates majoring in math, science and engineering. Its goal is to provide a continuing source of highly qualified scientists, mathematicians, and engineers by awarding scholarships to college students who intend to pursue research careers in these fields.
Perez Rodriguez is City College's fourth Goldwater recipient in four years. As a Goldwater Scholar, he will receive an annual stipend of up to $7,500 for tuition, room and board, books and other expenses.   
Perez Rodriguez is a member of Distinguished Professor Ruth Stark's lab at the City College Center for Discovery and Innovation. The Rego Park, Queens, resident investigates plants' intrinsic defense mechanisms against physical and pathogenic threats.
His career goal is to conduct Structural Biology focused research in the biomedical sciences and have a career coordinating drug development and research on human health. He aspires to teach at the university level. Perez will spend this summer at Harvard Medical School, where he will continue investigating the ubiquitin system, and its implication in homeostasis regulation that drives many types of cancer.

About The City College of New York
Since 1847, The City College of New York has provided a high quality and affordable education to generations of New Yorkers in a wide variety of disciplines. CCNY embraces its role at the forefront of social change. It is ranked #1 by the Harvard-based Opportunity Insights out of 369 selective public colleges in the United States on the overall mobility index. This measure reflects both access and outcomes, representing the likelihood that a student at CCNY can move up two or more income quintiles. In addition, the Center for World University Rankings places CCNY in the top 1.2% of universities worldwide in terms of academic excellence. More than 16,000 students pursue undergraduate and graduate degrees in eight professional schools and divisions, driven by significant funded research, creativity and scholarship. CCNY is as diverse, dynamic and visionary as New York City itself.  View CCNY Media Kit.