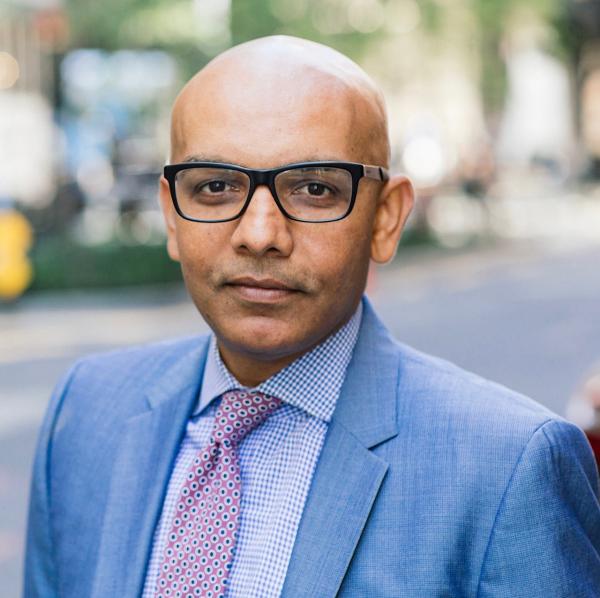 Mike Shah, CCNY Class of 1994 and a top corporate attorney, has joined the Colin Powell School Board of Visitors.
The Colin Powell School for Civic and Global Leadership at The City College of New York today announced the appointment of Manan (Mike) Shah, a partner in the New York office of Milbank LLP and 1994 CCNY alumnus, to serve as a member of its Board of Visitors. He joins 23 other distinguished Board Members. 
"The Colin Powell School's central purpose is to prepare one of the nation's most diverse student bodies to become tomorrow's global leaders. Mike Shah embodies that mission. As an alum, he is proof of the transformative impact of a CCNY education, and he is a role model for our students," said Andrew Rich, the Richard J. Henley and Susan L. Davis Dean of the Colin Powell School. "He is already mentoring our students and supporting them at Milbank. We welcome Mike's leadership as a member of the Board of Visitors."
In addition to his position as a Milbank LLP partner, Shah is a member of the firm's Executive Compensation Group and Corporate Governance Practice. His expertise covers various facets of executive compensation matters. He regularly advises compensation committees and boards of directors on corporate governance and executive compensation matters. 
Shah, specifically, has extensive experience advising public and private companies on executive compensation and employee benefits issues across a broad range of corporate transactions. This includes mergers and acquisitions, corporate restructurings and bankruptcies, friendly and hostile tender offers, divestures, and public offerings. He also frequently advises on the design and implementation of employment, separation and change-of-control arrangements, both in the regular course of business and in the context of a transaction. 
A significant aspect of Shah's practice involves advising clients on the compensation and benefits issues that arise during the course of a corporate restructuring. He regularly assists boards of directors with structuring a company's go-forward compensation arrangements in a way that incentivizes employee retention and performance while considering the economic realities of a post-emergence organization.
He's also a frequent commentator on executive compensation and governance issues for several leading financial news sources.
 
Shah's expertise in employee benefits and executive compensation has earned him recognition by Chambers USA and The Legal 500. He was named one of the Best Lawyers in America for 2013-2021, and appointed a David Rockefeller Fellow by the Partnership for New York City. 
Shah earned his law degree from Yeshiva University's Benjamin N. Cardozo School of Law, which he attended after graduating from The City College with a B.A. While at CCNY, he participated in a legal studies program that was the precursor to the current Honors Program in Legal Studies housed in the Colin Powell School.
 
About the Colin Powell School for Civic and Global Leadership
Established in April 2013, the Colin Powell School is home to the social science departments at CCNY as well as the core leadership development and public service programs of the College. With almost 4,000 students, and graduating the most CCNY students annually, the Colin Powell School mission is to transform the nation's most diverse student body into tomorrow's global leaders. Half of our students are immigrants; more than seventy percent are first-generation college students. Eighty percent are people of color. Most come from lower income backgrounds. The Colin Powell School and City College remain among the most effective engines of economic and social mobility in the United States. The School is led by a faculty dedicated to the highest standards of research and to the university's democratic and public obligations. Read more about the Colin Powell School.
About the City College of New York
Since 1847, The City College of New York has provided a high-quality and affordable education to generations of New Yorkers in a wide variety of disciplines. CCNY embraces its position at the forefront of social change. It is ranked #1 by the Harvard-based Opportunity Insights out of 369 selective public colleges in the United States on the overall mobility index. This measure reflects both access and outcomes, representing the likelihood that a student at CCNY can move up two or more income quintiles. In addition, the Center for World University Rankings places CCNY in the top 1.8% of universities worldwide in terms of academic excellence. Labor analytics firm Emsi puts at $1.9 billion CCNY's annual economic impact on the regional economy (5 boroughs and 5 adjacent counties) and quantifies the "for dollar" return on investment to students, taxpayers and society. At City College, more than 16,000 students pursue undergraduate and graduate degrees in eight schools and divisions, driven by significant funded research, creativity and scholarship. CCNY is as diverse, dynamic and visionary as New York City itself. View CCNY Media Kit.