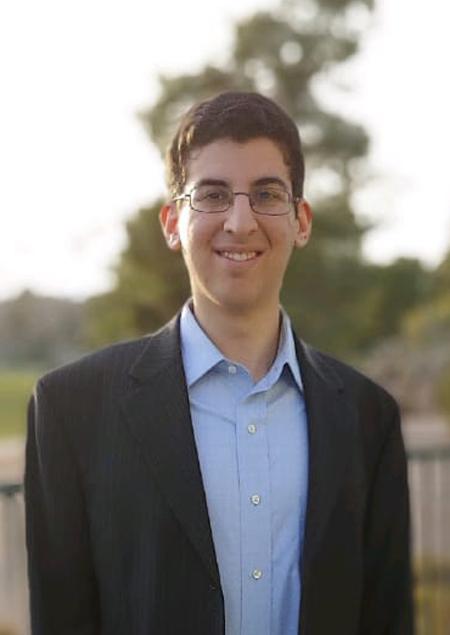 Benjamin Reichman, a junior in the Macaulay Honors College program at CCNY, is a 2020 Goldwater Scholar. 
Benjamin Reichman, a junior in the Macaulay Honors College program, is The City College of New York's fifth Barry M. Goldwater Scholar in as many years. He joins a list of talented students in science, engineering and mathematics recognized nationally by the Barry Goldwater Scholarship and Excellence in Education Foundation.
The federally funded scholarship is America's premiere award for undergraduates majoring in math, science and engineering. Its goal is to provide a continuing source of highly qualified scientists, mathematicians, and engineers by awarding scholarships to college students who intend to pursue research careers in these fields. Goldwater Scholars have gone on to earn 93 Rhodes Scholarships, 146 Marshall Scholarships, 170 Churchill Scholarships and numerous other distinguished awards. 
Reichman will receive an annual stipend of up to $7,500 for tuition, room and board, books and other expenses.

Born in Belgium, Reichman moved to New York City at age four. He is a computer engineering major and started attending hackathons in his freshman year. He has won multiple accolades including "Best Hardware Hack." He was named a fellow at the National Institute of Standards and Technologies, where he researched AI applications to firefighter safety. 
Since his sophomore year, Reichman has conducted research at the CCNY Media Lab involving computer vision as it relates to medicine. His first project tracked the gaze of radiologists as they looked at medical images. Currently he is working on algorithms that can detect tampering in medical images. He plans to pursue a PhD in Artificial Intelligence and to work to make advances in computer aided systems for improved diagnosis and medical treatment.
Reichman's other honors include:
Goldsmith Scholar awarded to Macaulay students who intend to attend graduate school; 
A fellowship from the Intelligence Community Centers for Academic Excellence; 
The Haratunian Scholarship from the Society of American Military Engineers; 
The NYC Council Merit Scholarship awarded to alum of NYC public schools who maintain at least a 3.0 GPA; and
Membership in Tau Beta Pi, the engineering honor society.
About the City College of New York
Since 1847, The City College of New York has provided a high-quality and affordable education to generations of New Yorkers in a wide variety of disciplines. CCNY embraces its position at the forefront of social change. It is ranked #1 by the Harvard-based Opportunity Insights out of 369 selective public colleges in the United States on the overall mobility index. This measure reflects both access and outcomes, representing the likelihood that a student at CCNY can move up two or more income quintiles. In addition, the Center for World University Rankings places CCNY in the top 1.2% of universities worldwide in terms of academic excellence. Labor analytics firm Emsi puts at $1.9 billion CCNY's annual economic impact on the regional economy (5 boroughs and 5 adjacent counties) and quantifies the "for dollar" return on investment to students, taxpayers and society. At City College, more than 16,000 students pursue undergraduate and graduate degrees in eight schools and divisions, driven by significant funded research, creativity and scholarship. CCNY is as diverse, dynamic and visionary as New York City itself. View CCNY Media Kit.