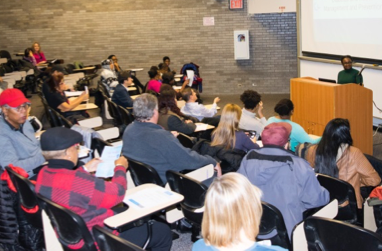 Life can be very stressful. How do you know when seeing a psychologist could help? 
The truth is, everyone can benefit from talking with a psychologist now and again. And on Dec. 13 you can do just that – for free – when Deidre Anglin, an associate professor of Clinical Psychology in the Colin Powell School for Civic and Global Leadership at The City College of New York, talks about how psychologists can help us all live a more meaningful, spiritual and fulfilling life.
Please join us for the CUNY School of Medicine's Mini-Medical School at CCNY at 5:30 p.m. in the North Academic Center, Room 1/201 to hear Anglin speak - and listen to you. She'll take your questions about whatever's on your mind, like family dynamics, financial pressures, work issues, parenting, anxiety, learning disabilities, and more.
This event is free and open to the public. Click here to RSVP.
The Psychological Center at CCNY provides low-cost mental health services to the Harlem community. For more information please call 212-650-6603.
About The City College of New York
Since 1847, The City College of New York has provided low-cost, high-quality education for New Yorkers in a wide variety of disciplines. Today more than 16,000 students pursue undergraduate and graduate degrees in eight professional schools and divisions, driven by significant funded research, creativity and scholarship. Now celebrating its 170th anniversary, CCNY is as diverse, dynamic and visionary as New York City itself. View CCNY Media Kit.