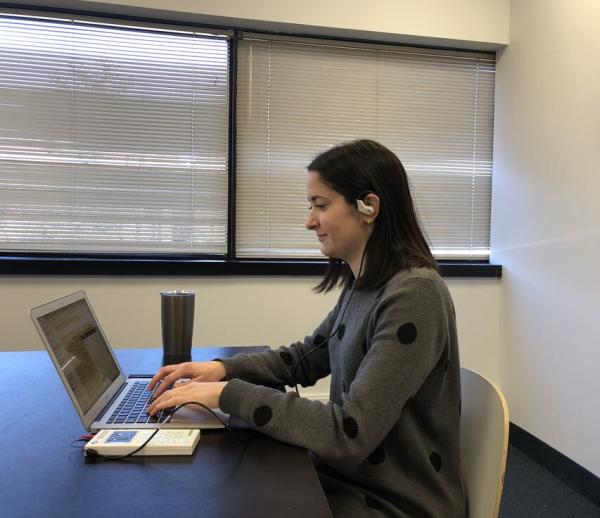 A subject in Marom Bikson's research group using the taVNS device with telemedicine support.
While COVID's often deadly outcome has resulted in the worst pandemic in a century, studies are unveiling a post-COVID phase for survivors during which neuropsychiatric symptoms, such as fatigue, anxiety and depression, can occur. How to treat this debilitating phase, called NeuroCOVID, is the challenge City College of New York biomedical engineer Marom Bikson and his team are tackling.
The first stage of COVID is characterized by fever, heart or lung problems. NeuroCOVID is second stage, characterized by one or a combination of symptoms like vertigo, loss of smell, headaches, fatigue and irritability, as well as anxiety and depression, said Bikson, professor in the Grove School of Engineering. These second stage symptoms can persist, leaving patients with ongoing mental health complications. 
Bikson is leading a multi-center trial utilizing a revolutionary noninvasive technology developed in his neural engineering lab. It involves stimulating the vagus nerve in an attempt to both directly activate brain healing mechanisms and also reduce inflammation in participants with reported neuroCOVID symptoms. Using this two-prong approach, which aims to reverse neuropathic changes in brain function while also reducing inflammation (which is known to cause a host of problems in the body) it is hoped that some or all of the patients' neuroCOVID symptoms will subside.
In addition to state-of-the-art technology to activate the nervous system, the clinical trial incorporates advanced home-based real-time monitoring of patient vitals, and a clinician-patient portal for real-time assessment of progress and remote-control of the technology. "This is truly personalized medicine, with the ability for physicians to adjust therapy in real-time and monitor patient progress at-home with rigor usually reserved for advanced medical centers. The trial is one example of hundreds of medical treatments developed at CCNY being tested or in use," said Bikson.
The device used in the trial includes a small clip placed on the ear. A hand-held stimulator provides barely perceptible electrical stimulation to the ear to stimulate the auricula branch of the vagus nerve. The technique is generally called transcutaneous Auricular Nerve Stimulation or tAVNS. The Bikson group worked with clinicians at the Medical University of South Carolina (MUSC) to optimize tAVNS so it can be used reliably and easily in patients' homes. The partners also designed a trial allowing entirely home-based treatment for NeuroCOVID.
Bikson directs one of the most productive medical device design labs in the country with support from the National Institutes of Health and numerous corporate partners. It develops medical devices to treat neurological and psychiatric disorders, including devices that apply minute levels of energy to activate the brain and nervous system. 
The devices for the NeuroCOVID trial are built by Soterix Medical, a medical device company co-founded by Bikson as a spin-off from CCNY research.  

About the City College of New York
Since 1847, The City College of New York has provided a high-quality and affordable education to generations of New Yorkers in a wide variety of disciplines. CCNY embraces its position at the forefront of social change. It is ranked #1 by the Harvard-based Opportunity Insights out of 369 selective public colleges in the United States on the overall mobility index. This measure reflects both access and outcomes, representing the likelihood that a student at CCNY can move up two or more income quintiles. In addition, the Center for World University Rankings places CCNY in the top 1.8% of universities worldwide in terms of academic excellence. Labor analytics firm Emsi puts at $1.9 billion CCNY's annual economic impact on the regional economy (5 boroughs and 5 adjacent counties) and quantifies the "for dollar" return on investment to students, taxpayers and society. At City College, more than 16,000 students pursue undergraduate and graduate degrees in eight schools and divisions, driven by significant funded research, creativity and scholarship. CCNY is as diverse, dynamic and visionary as New York City itself. View CCNY Media Kit.