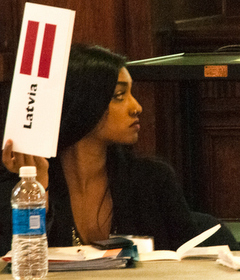 Amid increasing flashpoints around the globe, 150 students from the United States and Europe spent the pre-Easter period at The City College of New York learning about the tenets of diplomacy and problem solving. The occasion was the 28th SUNY Model European Union Simulation, March 26-28, hosted by City College for the first time.
 
Eighteen institutions, including universities from Belgium, Germany, France and Ireland, participated. The 18 schools each assumed the role of a European Union (EU) member nation and presented that country's position on several topical issues. These included diplomacy with Russia and the immigration crisis in the Mediterranean.
 
City College's five-member team played the role of Latvia. The team comprised:
Sarah Beera, junior, international studies; 
Felix De Jesus, senior, pre-law and history; 
Scott Shreder, senior, international studies; 
Maciej (Matt) Skrzyniarz, senior, international studies; 
Daniel Vertiz, senior, history.
"The goal is to learn how to get things done and passed. It teaches us problem solving and diplomacy," said Shreder.
According to Beera, the simulation offered good preparation for careers in the diplomatic service, public administration and NGOs.
Dr. Barbara Syrrakos, a professor of history in City College's Division of Humanities and the Arts who has led CCNY students to two previous Model EU simulations, was local host of the event. She teaches a European Union class.
Among the other institutions that took part were Vesalius College (Belgium), FH Schmalkalden University (Germany), University of Lille (France) University of Limerick (Ireland), Drake University (Iowa) and SUNY New Paltz.
About The City College of New York
Since 1847, The City College of New York has provided low-cost, high-quality education for New Yorkers in a wide variety of disciplines. More than 16,000 students pursue undergraduate and graduate degrees in: the College of Liberal Arts and Sciences; the Bernard and Anne Spitzer School of Architecture; the School of Education; the Grove School of Engineering; the Sophie Davis School of Biomedical Education, and the Colin Powell School for Civic and Global Leadership. U.S. News, Princeton Review and Forbes all rank City College among the best colleges and universities in the United States.