Welcome to the Department of History
One of the most lively programs on campus, History at the City College of New York has been crafted to meet the needs of scholars, future educators, and history enthusiasts alike. Our accomplished faculty members have made their own marks in this arena both at CCNY and throughout the world. The History Department values its discussion-based classes where students are able to engage with one another and their professors in the study of the past.
Graduates not only represent City College at major higher educational institutions around the country but have also gone on to successful careers in a wide range of legal, educational, journalistic, governmental, medical, entertainment, and other fields.
Work/Internship Opportunities
William Randolph Hearst Fellowship 2023 
May 30 - July 28, 2023
The Mount Vernon Hotel Museum and Garden (MVHM&G) offers two summer Fellowships for current undergraduate or graduate students interested in U.S. history, humanities, the arts, museum studies, museum education, or other related fields. Fellows participate directly in the daily operations of a historic site, including tours and programs for children and adults, and complete an independent project. Now in its thirty-ninth year, the full-time Fellowship, funded by the William Randolph Hearst Foundation, consists of nine weeks with a $2,750 stipend. Virtual and in-person options will be considered. Hours are 9AM-5PM Monday-Friday, with occasional evenings for special events if in-person. Fellows are responsible for their own housing and transportation.
Deadline to apply: March 15th, 2023

Link to more information and the application form below:
https://mvhm.org/wp-content/uploads/2015/05/Hearst-Fellowship-Application-2023.pdf#:~:text=William%20Randolph%20Hearst%20Fellowship%202023,May%2030%20-%20July%2028%2C%202023
Holocaust Educator School Partnership Program: Spring 2024
New York City undergraduate and graduate students are invited to apply now for a paid, in-depth internship to learn about and teach the history of the Holocaust in classroom and Museum gallery settings. 
The Holocaust Educator School Partnership program at the Museum of Jewish Heritage – A Living Memorial to the Holocaust offers New York City college and university students a challenging program of work and study as they are trained on how to teach the history of the Holocaust and then work with middle and high school students in NYC public schools. Interns receive in-depth education about the history of the Holocaust and teaching methodologies.
TRAINING: In mid-August, interns will attend an intensive training at the Museum to learn how to teach public middle and high school students about the Holocaust. During training interns meet with Museum staff and Holocaust scholars, hear testimony from Holocaust survivors, and learn methods for teaching from artifacts in the Museum's collection. 
TEACHING: Following training, interns work in pairs, visiting several New York City public middle and high schools to teach an introductory classroom lesson and then give tours to these classes at the Museum. 
BENEFITS: Interns receive a stipend based on the number of visits that they teach and are reimbursed for local travel. Interns may choose to work for school credit rather than pay. For interns, the program provides a growth opportunity and hands-on teaching experience. Many interns continue to pursue academic or professional interests related to their experiences teaching about the Holocaust.
ELIGIBILITY: Currently enrolled undergraduate and graduate students of all backgrounds and academic interests are encouraged to apply. The internship is designed for students from a variety of fields and backgrounds. The ideal candidate will have a desire to learn and educate, an appreciation for museums, and an ability to work well with others. No previous teaching or Holocaust study is required, although both of these are desirable. 
MORE INFORMATION: Please contact us at eszasz@mjhnyc.org or 646.437.4324. 
Deadline to apply:  November 17, 2023 at 3PM
Link to more information and the application form below:
https://mjhnyc.wufoo.com/forms/holocaust-educator-school-partnership-fall-2023/
Announcements:
Attention Prospective M.A. Students
Fall 2023 History MA Application Deadline
April 1st: Early
May 15th: Regular
For more information about our program, please click on the "Graduate Program" tab at the top of this homepage.
For specific questions, please contact Professor Seiji Shirane, director of graduate studies, at sshirane@ccny.cuny.edu .
To apply to our History M.A. program, see the CCNY Graduate Application portal by clicking here. 
Student Spotlight
Randy E. Garcia, one of our BA/MA History undergraduate students here at The City College of New York is headed to Japan after winning scholarships to attend the highly competitive Middlebury Language School Japanese Immersion Program, and the inaugural Japan-United States Friendship Commission Summer Institute (JUSFC).
On his future, Garcia said: "Currently, I am thinking about obtaining a PhD in Japanese history, and to continue developing my research on the impact of the triangular relations between the United States, Japan, and Latin America on Japanese emigration into Latin America between the 1900s to the 1950s."
His other honors at CCNY include a Mellon Mays Fellowship, the Barbara Brooks Award, "given to an outstanding paper in East Asian History"; and the Louis Neugeborn Memorial Scholarship.
Link to more about Randy E. Garcia and his accomplishments below:
https://www.ccny.cuny.edu/news/ccny-double-major-randy-garcia-wins-top-scholarships-study-japanese-language-us-relations?fbclid=IwAR0uCt34j3alxegXKZp3eeQfB5nOY4knmI08Y8w5mIiP6gq_9N58-rLNF6c
Professor Spotlight
Professor Laurie Woodard, our very own esteemed CCNY History Professor, is writing a biographical study of the New Negro Renaissance actress, "A Real Negro Girl: Fredi Washington and the New Negro Renaissance," which is set to be published in October by Oxford University Press.
Read below an article written about her research and future accomplishment!
https://thericc.com/professor-writes-book-on-black-female-activist-from-the-new-negro-renaissance-dr-laurie-woodard/
Undergraduate Courses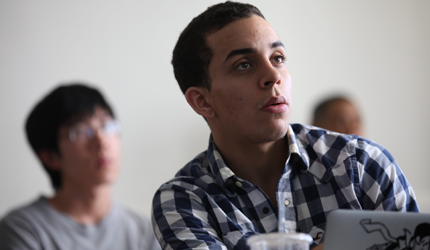 View a list of all of our upcoming undergraduate courses.
Graduate Courses
View a list of all of our upcoming graduate courses.
Department Newsletter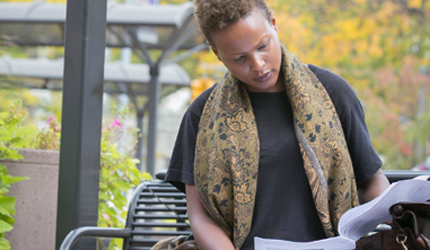 Read our latest newsletter.
The Judith Stein Award for BA/MA Students
Application Deadline: March 27, 2023
In honor and memory of the late Judith Stein, an esteemed member of the CCNY History Department from 1965 to 2016, the Department will award outstanding BA/MA students scholarships that will cover tuition for up to 3 MA courses in History for the next semester of enrollment.
The Department welcomes applications from students currently enrolled in its BA/MA Program in History who will have completed, or nearly completed, the BA portion of the program by Spring 2023. Successful candidates will demonstrate a commitment to excellence, clarity of purpose in their studies, and financial need.
To apply, students should submit the following materials by March 27, 2023, to Office Admin. history@ccny.cuny.edu (with the subject line "Stein Scholarship"):
A CCNY transcript
A one-page statement of purpose addressed to the History Executive Committee that outlines their curricular program and goals
Additionally, students should arrange for a letter of recommendation from a CCNY faculty member. The letter should also be sent to history@ccny.cuny.edu with the subject line: "Stein Scholarship Letter." Please include the name of the faculty member in your application.
Link to more information below:
https://www.ccny.cuny.edu/history/awards-and-scholarships#:~:text=FOR%20BA%2FMAs-,Judith%20S.,for%20Fall%20and%20Spring%20deadlines
CUNY Belle Zeller Scholarship Fund
The Belle Zeller Scholarship Trust Fund was established in 1979 by the Professional Staff Congress/CUNY, the instructional staff union of The City University of New York. The scholarship honors the founding president of the PSC, Belle Zeller, Professor Emerita of Political Science at Brooklyn College, where she taught for more than 40 years. This scholarship is intended to honor the unique qualities of Belle Zeller: the combination of social commitment and scholarship and is based on merit, not financial need. The Fund is an independent not-for-profit organization.
1. The Board of Trustees of the Belle Zeller Scholarship Trust Fund (Trustees) will review all applications and select those candidates to be interviewed
2. Applicants must be a full-time CUNY Undergraduate Students and must have completed at least sixteen (16) credits at a CUNY College with a cumulative GPA of 3.75 or higher.
3. Awards in the amount of $2,500 will be paid twice yearly provided the recipient remains a full-time student in CUNY, and until the recipient completes 120 credits. The recipient must continue to maintain a GPA of 3.75 or higher and continued provide evidence of community service each year they are receiving the scholarship. The Trustees shall be the sole judge of whether a recipient continues to meet these requirements.
Application Deadline: March 3, 2023
Link to more information and the application form below:
History Society
If you are interested in the activities of the History Society, contact Prof. Blanton, JBlanton@ccny.cuny.edu  
Academic Credit for History-Related Internships
To bridge the gap between academic and experiential learning, the Department of History offers academic credit for history/research-related internships (paid or unpaid). The hours spent at the internship will take the place of classroom learning, however, students should understand the internship as a part of their education within the History Department. Some possible credit-bearing internships include, but are not limited to, working as a research assistant; working in a museum, research facility, or gallery. Read more...
Teaching Garden
The Teaching Garden is a joint project with faculty from the Science Division and the CUNY Medical School, financed by a Moxie grant in 2019 as part of the Campus Engagement Network.  It is designed for neighboring school children to learn about the growing and nutritional value of herbs -- easy to plant, and easy to keep on your kitchen window sill. Read more... Contact Prof. Syrrakos if you are interested or have questions,  Bsyrrakos@ccny.cuny.edu .
Contact Information
Prof. Anne Kornhauser
Department Chair
Office Hours: In-person on Mondays, 1:45 to 3:45 p.m., and by appointment. Please email Prof. Kornhauser for a Zoom meeting, at history@ccny.cuny.edu
North Academic Center
Room 5/144A
160 Convent Avenue
New York, NY 10031
p: 212.650.7137
e:   history@ccny.cuny.edu
ADVISING HOURS FALL 2023
Undergraduate Advising:
Prof. James Lewis
Office hours are Monday and Wednesday from 6:30 to 7:15 p.m., in person, location NAC 5/132
JLewis@ccny.cuny.edu
Prof. John Blanton
Office hours are Tuesday and Thursday from 12:30 to 2:00 p.m., in person, location NAC 5/133.  Email Prof. Blanton for a Zoom appointment.
JBlanton@ccny.cuny.edu
Graduate Advising:
Prof. Seiji Shirane
Seiji Shirane ( sshirane@ccny.cuny.edu )
Office Hours: Mon./Wed. 3:30pm-4:30pm, and by appt. by ZOOM. Please email to schedule appt. and to receive the Zoom office hours link.