Announcements:
Fall & Summer 2021 registration is here! Our course offerings for undergraduate & graduate History, USSO, and WCIV classes are now available. Click here to see the full list. 
The MA Program in History will hold a virtual informational session for prospective students on Thursday, 25 March 2021, from 7-8 p.m. To register, contact: Prof. Barbara Naddeo, BNaddeo@ccny.cuny.edu .
The History Society's Spring 2021 meeting schedule is available! See the flyer below or click here for more information.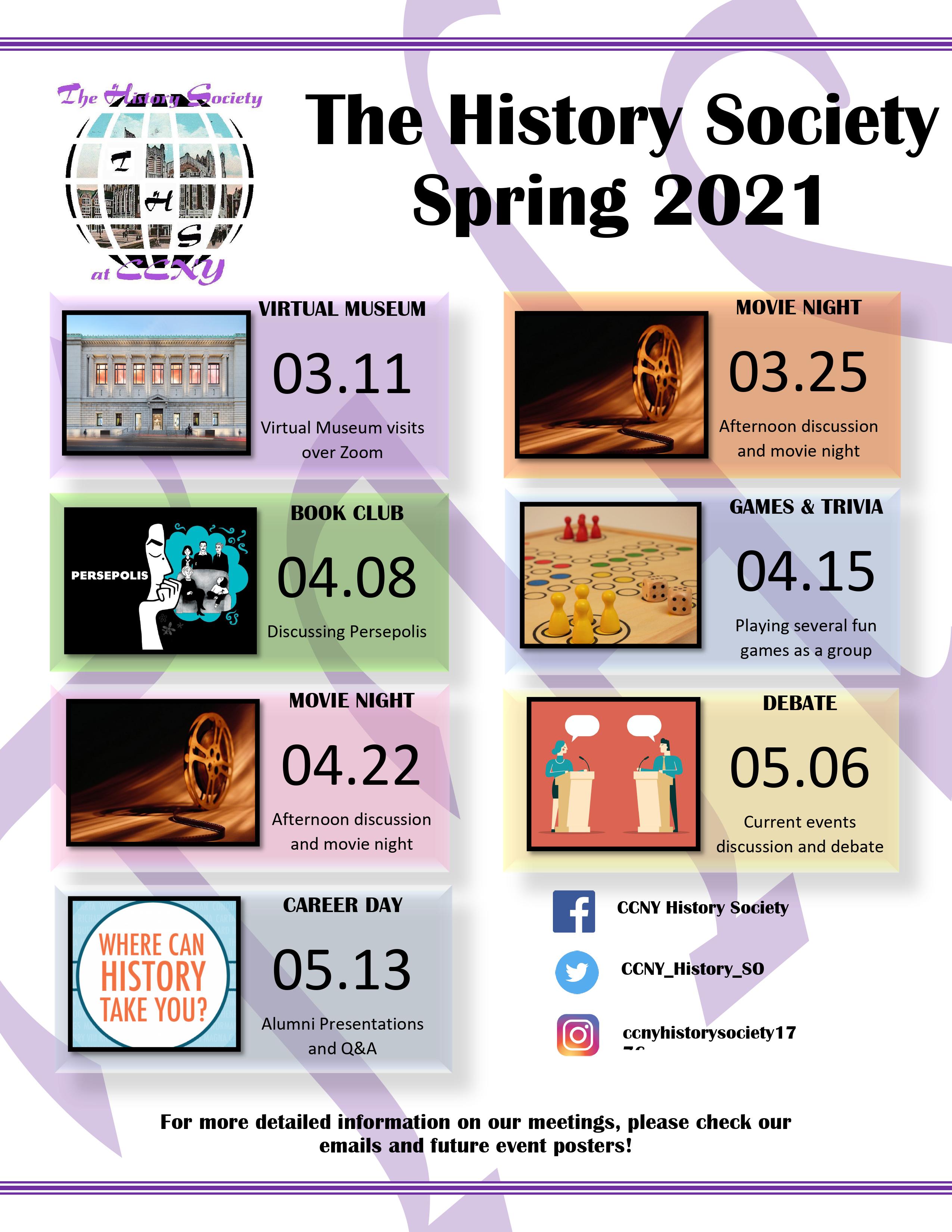 WELCOME TO HISTORY @ CCNY
One of the most lively programs on campus, History at the City College of New York has been crafted to meet the needs of the most voracious history scholar, as well as those students with an interest in a particular era or region. The accomplished faculty has made its own mark in this arena both at the college and throughout the world and prepares students for a wide range of future careers and challenges. Graduates not only represent City College at major higher educational institutions around the country but have gone on to successful careers in a wide range of legal, educational, journalistic, government, medical, entertainment, and other fields.

You can look forward to creative pedagogy in various modes, all while holding true to the essential mandate of history teaching: 
To enliven the past and grasp the present through novel discussion, analytical writing, the reading of exciting texts, evaluating images and the exercise of magisterial thinking in our "now" age of creativity, social change, innovation and more. 

If ever there were an imperative to revisit the actions of our forebears, the time is nigh. 

*****

If you are interested in the activities of the History Society, contact Prof. Blanton, JBlanton@ccny.cuny.edu

If you are interested in the activities of the student-led Europe Club, contact William Vasiladiotis, WVasila000@citymail.cuny.edu

If you are interested in the activities of the Teaching Garden, contact Dr. Syrrakos, BSyrrakos@ccny.cuny.edu

*****

 
---
Scroll down for advising hours and contact information
Quick Links
ATTENTION PROSPECTIVE M.A. STUDENTS
For more information about our program, please click on the "Graduate Program" tab at the top of this homepage. 
For specific questions, please contact Professor Barbara Naddeo, director of graduate studies, at BNaddeo@ccny.cuny.edu .  
To submit an application, please go to  https://app.applyyourself.com/AYApplicantLogin/fl_ApplicantConnectLogin.asp?id=CUNYCCNYG
******
The Judith Stein Award for BA/MA Students
Application Deadline:  January 1, 2021
In honor and memory of the late Judith Stein, an esteemed member of the CCNY History Department from 1965 to 2016, the Department will award outstanding BA/MA students scholarships that will cover tuition for up to 3 MA courses in History for the next semester of enrollment.  
The Department welcomes applications from students currently enrolled in its BA/MA Program in History who will have completed, or nearly completed, the BA portion of the program by Fall 2020.  Successful candidates will demonstrate a commitment to excellence, clarity of purpose in their studies, and financial need.
To apply, students should submit the following materials by January 1, 2021, to Professor Barbara Naddeo, BNaddeo@ccny.cuny.edu  (with the subject line "Stein Scholarship"): 
1) A CCNY transcript
2) A one-page statement of purpose addressed to the History Executive Committee that outlines their curricular program and goals
3) Additionally, students should arrange for a letter of recommendation from a CCNY faculty member. The letter should also be sent to BNaddeo@ccny.cuny.edu  with the subject line: "Stein Scholarship Letter." Please include the name of the faculty member in your application.
CONTACT INFORMATION
Prof. Anne Kornhauser
Department Chair
Office Hours: Mondays, 4:00 to 6:00 p.m., and by appointment
Please email Prof. Kornhauser to set up a Zoom meeting, at
North Academic Center
Room 5/144A
160 Convent Avenue
New York, NY 10031

p: 212.650.7137
e:  histo%72y@ccny.cu %6ey.%65du" rel="nofollow"> history@ccny.cuny.edu
ADVISING HOURS FALL 2020
Undergraduate Advising:
Prof. James Lewis
Please email Prof. Lewis for advising.
Office hours are Wednesdays 3:15 to 4:00 p.m.
Prof. John Blanton
Please email Prof. Blanton to arrange for a Zoom meeting
during office hours:  Thursdays from 1:30 to 3:30 p.m., and by appointment
NAC 5/133
Graduate Advising:
Prof. Barbara Naddeo
Please email Prof. Naddeo to set up a Zoom meeting
during office hours:  Mondays and Wednesdays between noon and 1:00 p.m.