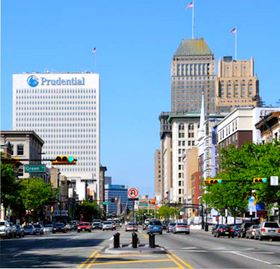 Sustainable Indicators model developed by CCNY team tracks how well new master plan for Newark, N.J., serves its citizenry
How does a city measure success? In the case of Newark, N.J., the city is a major employment, cultural and education center. However, limited education attainment and low incomes preclude many residents from taking advantage of opportunities right in their backyard.
When the Jonathan Rose Cos. was asked to produce a new master plan for Newark, it wanted to measure not only the plan's impact on the built environment but also how well it served the citizenry. A set of sustainability indicators developed for the plan by a partnership of Rose, the J. Max Bond Center on Design for the Just City, and three City College of New York graduate students is intended to do just that.
"City officials and the Jonathan Rose Company wanted a methodology to assess the impact of its land-use policies, and decided to do that by looking at sustainability," explained Toni Griffin, director of the Bond Center and professor of architecture in the Spitzer School of Architecture. "We saw this as an opportunity to work with our graduate sustainability program and engage capstone students in a research project based in real practice." Prior to joining the CCNY faculty, Ms. Griffin was Newark's director of planning.
"Our mission is to repair and strengthen the fabric of cities, towns and villages, while preserving the land around them," said Daniel Hernandez, managing director of Jonathan Rose's planning practice. "When the opportunity arose to collaborate with CCNY to develop a model that addressed human elements of the master plan, we were extremely excited and interested.
"The Bond Center / CCNY students and our planning team agreed that the success of the master plan should measure how the lives of people and the strength of communities will improve over time. Out of that discussion, we created the Sustainable Indicators model."
The model consists of 17 indicators supported by 58 distinct measures. They are organized around three broad themes of sustainability: economic viability, social enrichment and environmental responsibility. The three students working on the project, Matthew Grubler, Caleb Stratton and Olivia Vien, each collected and analyzed data and made recommendations for a specific theme. Their project took third place in their class' capstone competition.
The students compiled data from a variety of sources, including the U.S. Census, to measure the cities baseline performance relative to other cities and states. However, Newark did not have a good way to collect data for many areas the team wanted to address, and in its report the team recommended to the city that it recognize the gaps and prioritize correcting them.
Overall, the team found Newark was doing well in 10 of the 17 indicators, but it needed work in the other areas. A particular trouble spot was education, with only 14 percent of the population graduating from college.
"Because of this, the workforce is relegated to a certain kind of work, which causes the city to struggle," said Mr. Grubler, who focused on the economic indicators. "Most people who work in (Newark's) office buildings come from outside, so a lot of money doesn't stay in the community."
Transforming Newark into a "city of choice" requires meeting its economic and social challenges as well as addressing its environmental issues. "(Newark) must provide residents with access and connections to educational, cultural, business, and social opportunities while remaining conscious of the environment," the Newark Sustainable Indicators report states.
The experience of developing the indicators has helped shape Mr. Stratton's idea of what sustainability is about. While core principles of sustainability apply to every situation, he explained that his project's focus on the residents showed him how sustainable practices affect people's lives and the way they interact with their city.
"Being able to develop this kind of model helps (sustainability professionals) articulate what they are trying to do and shows them another way to think about why they are doing what they are doing," added Mr. Hernandez. "It also gives them another reason for doing this work. It's not just protecting the rain forest, but enhancing culture and quality of life for people."
Newark Sustainable Indicators
Economic Development
1.  Job Growth
2.  Employed Workforce
3.  Access to Jobs
4.  Affordable Housing
5.  Economic Security
6.  Municipal Resources
Healthy and Safe Neighborhoods
7.  Diverse Population
8.  Educational Attainment
9.  Vacancy and Abandonment
10.  Safety and Security
11.  Healthy Living
12.  Pedestrian and Bike Friendly Streets
13.  Local Governance and Community Development
City of Choice
14.  Residential Growth
15.  Complete Places
16.  Transit and Active Transportation
17.  Environmental Health
On the Internet