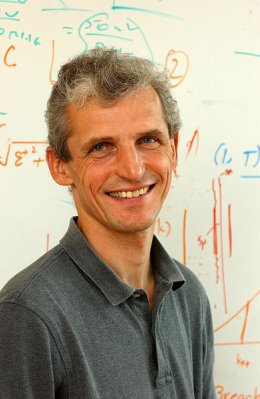 Wolfgang Ketterle Speaks on "Superfluid gases near absolute zero temperature"
This lecture has been cancelled due to complications following Superstorm Sandy
Physics Nobel Laureate Dr. Wolfgang Ketterle will deliver the Inaugural Cummins Lecture at the City College of New York 4 p.m. Thursday, November 1, 2012. Dr. Ketterle – whose research explores the bizarre world of ultracold matter – will discuss "Superfluid gases near absolute zero temperature." The lecture, which is free and open to the public, will take place in room 95, the recital hall, Shepard Hall. A reception will precede the event at 3:30 p.m.
Professor Ketterle was awarded the 2001 Nobel Prize in Physics for his fundamental experiments in low temperature physics leading to Bose-Einstein condensation in a gas. He is the John D. MacArthur Professor of Physics at the Massachusetts Institute of Technology, the director of the MIT-Harvard Center for Ultra-Cold Atoms, and the associate director of the Research Laboratory of Electronics at MIT.
Professor Ketterle's research in atomic physics investigates the characteristics of ultracold matter through laser cooling and trapping atoms. The Nobel Prize Committee recognized Professor Ketterle's research in which he chilled a cloud of atoms to a supercooled state near absolute zero to produce a form of matter called a Bose-Einstein condensate, created an atom laser from the condensate and conducted several seminal studies.
Albert Einstein and Satyendra Bose, for whom the condensate was named, predicted the existence of such a state of matter in 1925. Professor Ketterle shared the Prize with two independent researchers who also accomplished the same feat.
At the frigid temperatures required for this research, collections of atoms no longer behave as a standard gas, liquid or solid. Individual atoms in a condensate abandon independent movement and act as a single entity, taking on strange wave-like quantum properties.
When chilled to these very low temperatures, some materials lose all electrical resistance and become superconductors. In his talk, Professor Ketterle will discuss the related phenomenon of superfluidity – the state achieved by some liquids and gases when they lose their viscosity at low temperatures. Some superfluids display surprising properties, such as the ability to flow directly through solid matter or crawl up the sides of a container.
Particles called fermions must first form pairs before they can become superfluids. These pairs are analogous to the electron pairs, often called Cooper pairs, which are responsible for superconductivity. In his talk, Professor Ketterle will discuss his observations of fermion pair formation at very low temperatures. Such studies of ultracold atoms present a new approach to condensed-matter physics.
Professor Ketterle holds a diploma from the Technical University of Munich and a Ph.D. in Physics from the University of Munich. He joined the physics faculty at MIT in 1993 after completing postdoctoral work at the Max-Planck Institute for Quantum Optics in Garching, Germany, at the University of Heidelberg and at MIT.
He received the Rabi Prize of the American Physical Society in 1997, the Fritz London Prize in Low Temperature Physics in 1999, and the Benjamin Franklin Medal in Physics in 2000
The Annual Cummins Lecture was established by the Cummins family and friends to honor the life and work of Distinguished Professor Emeritus of Physics Herman Z. Cummins (1933-2010.) Professor Cummins came to City College from New York University in 1974 and established a world-class laser light scattering laboratory.
Remembered as an enthusiastic mentor and model, he used laser light in novel and ultra-sensitive ways to investigate the inner structure of matter. He was elected to the National Academy of Sciences in 1996 and held numerous other fellowships, such those for the American Physical Society and the New York Academy of Sciences. Although he retired in 2004, Professor Cummins continued to oversee research in his laboratory until 2010.
Online: