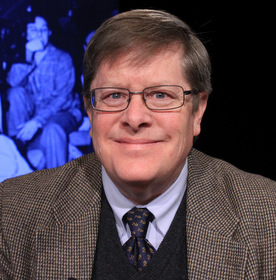 "Nueva York," CUNY TV's Spanish-language cultural series created and produced by City College film Professor Jerry Carlson, won two New York Emmy Awards at the 57th Annual Awards Ceremony at the Marriot Marquis March 30. 
The members of the New York Chapter of the National Academy of Television Arts and Sciences recognized the show for the fifth time as the Best Magazine Program. Now in its 10th season, "Nueva York" was also honored for Craft Specialty: Musical Composition / Arrangement. The winning piece was Tyrik Washington's composition for the "Pamela Gonzales" episode, which aired in May 2013. 
"Nueva York," which premiered in 2005, explores the rich textures of Latino society in the city, focusing on politics, art, culture, and the traditions of Spanish-speaking populations across the metropolitan area. Mexican novelist and critic Carmen Boullosa and Chilean journalist and writer Patricio Lerzundi host the show. 
Professor Carlson, who chairs City College's media and communication arts department and is a specialist in Latin American cinema, said the continued honors for "Nueva York" reflect two facts: "the richness of Latino life in La Gran Manzana (The Big Apple) as a subject and the talent with which the production team has been able to capture that cultural energy. 
"It's a wonderful creative dialogue between the producers and the community. We're blessed to be able to participate in it," he added.
The show's segment producers include six graduates of City College's MFA program in media arts production:  
Sarah Foudy;
Alex Lora;
Wilson Reyes;
Mario Rosales;
Gisela Saunders Alcantara,
and Carmen Vidal
About The City College of New York 
Since 1847, The City College of New York has provided low-cost, high-quality education for New Yorkers in a wide variety of disciplines. More than 16,000 students pursue undergraduate and graduate degrees in: the College of Liberal Arts and Sciences; the Bernard and Anne Spitzer School of Architecture; the School of Education; the Grove School of Engineering; the Sophie Davis School of Biomedical Education, and the Colin Powell School for Civic and Global Leadership. U.S. News, Princeton Review and Forbes all rank City College among the best colleges and universities in the United States.